Quote of the Day…..  – This is the worst demographic situation we've had in 500 years." – Sam Zell on declining birthrates in wealthy countries and their future influence on commercial real estate.
Economy
Signs of Wage Growth: The latest potential signal of wage growth: an increase in US labor costs in early 2015.  Bigger question is can this continue if broader economic growth continues to be anemic? In related news, profit margins could decrease this year as labor begins to gain on capital for a larger share of America's income.
See also: durable goods, new orders and real incomes are all going to likely have to show improvement before the Federal Reserve raises rates.
Mega-Drought
Tap Running Dry? Pleasanton is now considering halting their eastside specific plan process which began in 2012.  The reason?  A potential lack of water due to the drought. (h/t Tad Springer).  Not good news for developers if this becomes a trend.  However, the drought isn't going away any time soon.  See also: Here are the foods that California could cut back production on and save.  Some of these such as alfalfa are actually exported abroad.  So much for the "feeding America" line being used by commercial farmers to justify their exemption from mandatory reductions.  Wonderful.
Housing
You might not realize it looking at prices in some markets but homeownership is still in decline.  Millennials are moving out of their parents basements and typically moving into apartments.  The result?  Don't expect rents to fall anytime soon.  The Millennials who are buying homes in some expensive markets are frequently using jumbo loans.  In Southern California, they really don't have a choice.  Only 26% of the Southern California homes on the market are currently affordable for the average household headed by someone 23-34.  Pamela Patenaude  sums up this conundrum perfectly: "Millions more families will find themselves stuck between a rental market they can no longer afford and a homeownership market for which they do not qualify."  One bright spot in the market has been DR Horton's new Express Homes division which builds entry level homes.  Most builders have pretty much abandoned the space.  If Horton is successful, it might draw some back in.
Profiles
Here today, gone tomorrow: Secret, an anonymous sharing app that raised $35MM from 2013 – 2014 suddenly decided to shut it's doors on Wednesday amid declining popularity and concerns about cyber bullying.  However, I'm sure that their office space in San Francisco will be leased up quickly to another VC backed company with a huge valuation with no revenue.
Prescient Prophecies: Bill Gates made some pretty bold predictions about where technology was headed back in 1999.  He was eerily accurate in his prophecies.  One company who apparently didn't listen to what he said was Microsoft which ended up getting overtaken by Apple as the dominant force in tech.
Charts of the Day
The perfect storm for high apartment rents.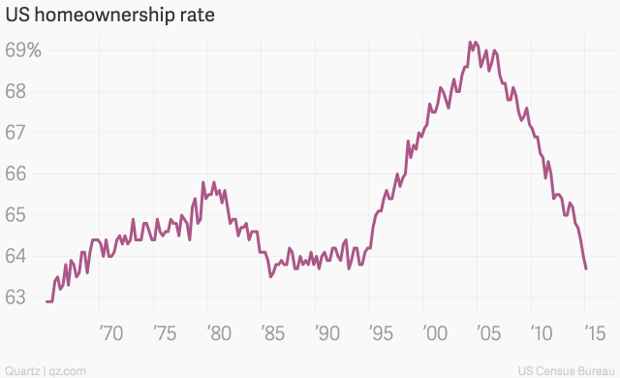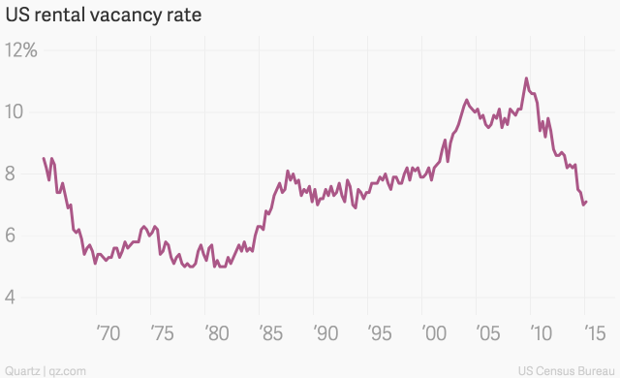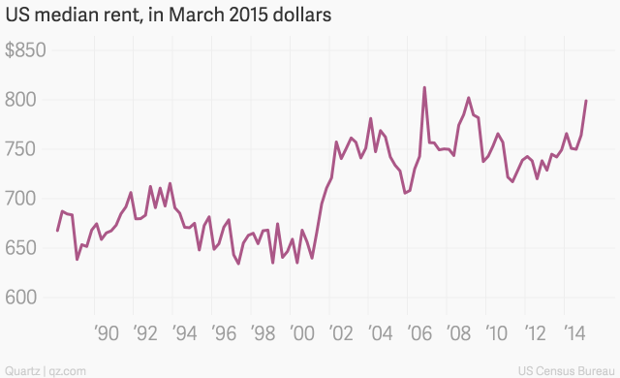 Source: City Lab
WTF
NFL Draft Update: Say what you will about the guy but judging by the photo that he posted on twitter last night, Jameis Winston clearly has a sense of humor.  The good news?  He can now afford to buy all of the crab legs he wants.  See also: no one has failed at the draft in the past 20 years like the Oakland Raiders.
I Should have Gone to Northern Arizona U: In retrospect, the girls that I went to college with were not all that fun.
Florida Crime of the Week: Couple arrested after woman stuffs $300 worth of meat down her pants.  "Deputies say the manager stopped Rowe and she hit the manager in the neck, dropping pork ribs, two packs of detergent and three water filters. Rowe fled the store and got into Edwards' truck. Deputies apprehended them at a traffic stop. Both were charged with grand theft and robbery."
Landmark Links – A candid look at the economy, real estate, and other things sometimes related.
Visit us at Landmarkcapitaladvisors.com