Lead Story… On Tuesday, I posted a piece about how construction unions actively undermined a measure that CA Governor Jerry Brown had presented to help solve California's affordable housing crisis by making it easier to gain approval for residential projects that would provide a certain number of affordable units. I have limited time to write today's blog post but I want to revisit that story, which the WSJ reported on (they wrote about a similar proposal in NY as well that was nuked by the unions) because the utter absurdity of it is so mind boggling (highlights are mine):
For both measures, construction unions were key to the defeat, as they won over key allies with their argument that the government shouldn't be aiding apartment development without also guaranteeing union-level wages. Unions, particularly in New York, have been facing a gradual erosion of their market share on residential developments, and now developers that a generation ago would have been union shops are able to fill jobs with nonunion workers, which can lower construction costs by an estimated 20%, according to New York-based Citizens Housing and Planning Council, a low-income housing group.

Robbie Hunter, president of the State Building and Construction Trades Council of California, said policies like the one pushed by Mr. Brown should allow construction workers to make a decent living "rather than drive those workers into the need of affordable housing itself."
Allow me to clarify: the reason that the unions killed both deals was that NY and CA wouldn't stipulate that all projects that fell under the proposals be built by union workers at a so called "prevailing wage" which is really just a fancy way of saying overpaying. Notice in the passage highlighted above that the unions have lost market share in recent years. I wonder why. Could it possibly be that residential projects (especially in CA with it's high impact fees) typically aren't viable at "prevailing wage" standards? Often, in residential developments, the only time that you see union labor being used are when a union pension fund provides the equity behind the project. Otherwise we just don't see it that often because numbers simply don't work. By the way, when a union pension fund provides the equity, they almost always have to take a substantially lower return in order to subsidize the above market "prevailing" wages paid for construction.
The real story here should be that unions are facing declining market share because they refuse to adapt. Governor Brown's proposal would have undoubtedly created more construction jobs in California, leading to more demand for labor and higher wages. If construction labor unions were at all flexible in their compensation demands, many of those jobs could have gone to union workers. However, rather than trying to expand their ranks, which ironically would lead to more power, not less, construction unions have dug in their heels in an effort to preserve the unsustainable wage structure of existing members. The rest of us pay the price since a proposal that would have provided a starting point for dealing with CA's growing housing crisis is now toast. Looks like the status quo of runaway housing cost wins again.
Economy
Looking Up: Federal income tax withholding data indicates that both wages and economic growth are on the rise.
(Skilled) Help Wanted: As skill requirements increase, more and more manufacturing jobs are going unfilled.
Commercial
Rise of the Machines: How CoStar is using spy planes to get an edge in tracking new development for rent projections.
Evolving: Some malls are starting to look a bit like theme parks as landlords try to cope with high vacancy from traditional tenants.
Residential
Closed for Business: Message to tech firms from Palo Alto's anti-jobs mayor: go away. See Also: Formerly middle class Palo Alto has gotten so expensive that not even techies can afford to live there anymore. For example, someone is listing a 790sf studio for $1.3MM. Turns out that the housing bubble of the aughts really didn't mean much at all in Palo Alto: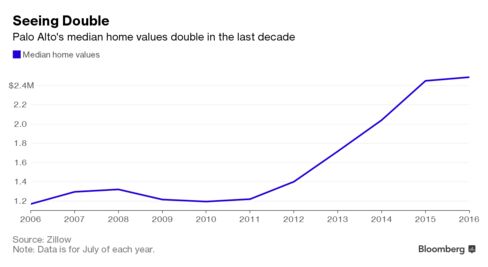 Proof is in the Pudding: The next time someone tells you that adding units, including luxury ones to the housing stock doesn't help affordability, direct them to these:
Exhibit A: Manhattan condo developers are offering discounts, concessions and perks in an effort to keep sales robust in the midst of a glut.
Exhibit B: How Brooklyn's luxury apartment boom is turning into a rental glut.
Profiles
Hero: 40 years ago John Bogle of Vanguard was sick of Wall Street overcharging for shitty performance. He did something about it and started the first index funds despite ridicule from his peers. Today, index funds hold nearly $5 trillion in low fee assets while much higher fee investments languish.
Hot Item: How the premium Yeti Cooler, also known as a "Redneck Rolex" became a prime target for thieves.
Get Off My Lawn: Baseball's fan demographics keep getting older, raising the question: can a game with a 19th-century tempo survive in the age of instant gratification?
Chart of the Day
WTF
Funny, In a Sad Sort of Way: Rapper Tyga got his leased Ferrari repossessed while he was at the dealership shopping for a new Bentley.
In Soviet Russia… Vladimir Putin was arrested at a Florida grocery store on trespassing charges, because Florida.
Seems Like a Reasonable Response: A Pennsylvania woman was arrested for biting her husband and stabbing him with scissors after she caught him drinking her beer.
Again, Seems Reasonable: Meet the father who destroyed his daughter's car with heavy construction equipment after catching her in it with a boy.
Landmark Links – A candid look at the economy, real estate, and other things sometimes related.
Visit us at Landmarkcapitaladvisors.com