Lead Story…. I've spent the last couple of weeks writing about how challenging it is to accomplish substantial, positive tax reform and also noting how the current proposal would have substantial negative effects on an already un-affordable housing market – especially in major west coast cities.
Today, I want to take a look at this issue from the prospective of another group: the commercial real estate industry. While those in the residential real estate industry are nearly universally unhappy with the reform proposal, their commercial real estate brethren are singing a far different tune.  For the past several months, there was more than a bit of concern in the commercial real estate world that several favorable tax provisions could get phased out or removed completely in a tax reform proposal.  These provisions include:
The 1031 exchange which enables sellers of investment properties to defer capital gains taxes upon sale by investing the proceeds in certain types of properties.
The ability to write off interest on debt secured by investment property.
The preferential treatment for carried interest that is taxed as capital gains rather than ordinary income.
Those in the commercial real estate industry can breathe a sigh of relief – at least for now – as they appear to have dodged a proverbial bullet.  As it turns out, none of these provisions are under attack in the current iteration of either the House or Senate proposal – the only partial exception being that capital gains treatment would be confined to profits earned from assets held for three years or more as opposed to today's 12 months.  In fact, there are some new proposals that would actually benefit owners of commercial real estate more than under today's tax code.  Peter Grant of the Wall Street Journal addressed the impact of beneficial provisions within the tax reform proposal in an article this week.  From the WSJ (emphasis mine):
Owners of office buildings, malls, warehouses and other commercial property would benefit from lower taxes on their profits and would be able to avoid a 30% limit on deductions for interest expense that would be imposed on other businesses, based on two separate bills originating in the House and the Senate.

The Senate bill, unveiled last week, also would shorten the depreciation period for commercial property to 25 years from 39 years.

……..

Both bills would make investing in real estate businesses more attractive, regardless of how the businesses are structured. Many private real-estate businesses are taxed under the so-called pass-through provisions of the tax law. In other words, there is no tax on corporate income. Rather, income is passed through to the personal tax returns of the property owner. Currently the top rate on pass-through income generally is the personal rate maximum of 39.6%.

Under the House bill, the pass-through rate for real-estate income would drop to 35.2%, but the rate would go down to roughly 25% if it is passive income—generally the kind earned from people who aren't involved in running the business—which rent often is. Under the Senate bill, the maximum pass through for real estate would drop to 32.7%, according to Mr. Rosenthal.

The House bill would tax dividends paid by real-estate investment trusts at a reduced 25% rate, according to Nareit, the industry trade association. Under the Senate bill, REIT dividends would be taxed effectively at a maximum 31.8% rate, Nareit said.
So, why the favoritism for commercial or residential?  There is some speculation that it is at least in part intended to roll back punitive tax reform provisions enacted in the 1980s that had a negative impact on the industry.  More from Peter Grant at the Wall Street Journal (emphasis mine):
At the same time, the preferential treatment of commercial property helps rectify what many in the industry considered a major affront delivered by the Tax Reform Act of 1986. That law outraged many in the industry partly by limiting the use of so-called passive losses, like those coming from investments in real estate by doctors and dentists.
These proposals come at an interesting time for the real estate industry.  Commercial real estate in the US is almost universally acknowledged to be late in the cycle.  The tax reform proposal could prove to be a shot in the arm which could extend that cycle further.  Residential has experienced massive increases in value in some markets but is still relatively subdued on a nationwide basis, especially when it comes to starts and sales of new units.  I think it's fair to say that there is nothing in the proposed tax proposals that will incentivize more much-needed residential construction.   The legislative pendulum has been solidly on the side of incentivizing home ownership over commercial real estate investment since at least 1986.  The tax reform proposals are a potential signal that the pendulum may be swinging the other way whether they pass or not.  All of which brings up a potential conundrum for California – Federal tax policy incentives could be aligning to force a change to the ultimate sacred cow of California politics – Prop 13.  I'll address that next week.
Economy
Pity Party: Credit Suisse expressed sympathy for Millennials in their latest Global Wealth Report:
"They faced the rigors of the financial crisis… and have also been widely hammered by high and rising house prices, rising student debt and increasing inequality. Millennials are not only likely to experience greater challenges in building their wealth over time, but also greater wealth inequality than previous generations."
Proceed with Caution: US household debt has reached another new record and some delinquency rates are beginning to rise.  See Also: Credit card delinquencies are on the rise.
Commercial
Hello, Fellow Kids: Mall developers are aggressively enticing online retailers with discounted rent and favorable lease terms in an effort to appeal to a younger crowd. However, tenants are proving to be rather picky about where they locate, favoring class A malls in close proximity to existing customers.  See Also: Brookfield's $14.8 billion bid to buy the rest of GGP is fueling expectations that other operators of so-called class-A malls are becoming acquisition targets. And: The Brookfield GGP bid has mall short sellers feeling some pain for the first time in a while.
Discount Rack: PIMCO thinks that REITs are one of the few type of equities that are still undervalued.
Residential
Slim Pickens: I've written a bit about why west coast cities have more affordability issues than east coast cities recently.  Here's another example: NYC has 388 condos currently for sale for less than $500k; Seattle has just 5.
Overwhelming: Pretty much everyone agrees that California has an affordability problem yet the people most engaged on the local level where approvals must be obtained are those that oppose new housing the strongest:
While a few groups don't want to see more housing, 9 out of 10 adults believe housing affordability is a problem in their part of California, that includes 92 percent of African-Americans, 85 percent of Asians, 86 percent of Latinos, and 88 percent of whites. The Bay Area is bleeding the most where 93 percent say it's a problem, 90 percent in Los Angeles, 88 percent in Orange/San Diego, 81 percent in the Inland Empire, 79 percent Central Valley.
We're Number 1: Los Angeles-Long Beach-Glendale has unseated San Francisco-Redwood City-South San Francisco as the least affordable housing market in the US according to the latest NAHB-Wells Fargo Housing Opportunity Index.  Just 9.1% of the homes sold during the 3rd quarter in the region were affordable to families earning the area's median income of $64,300.  The San Francisco region, which had held the top spot for 19 consecutive quarters fell to number 2.
Profiles
Shocking Headline of 2017: 'Market manipulation 101': 'Wolf of Wall Street'-style 'pump and dump' scams plague cryptocurrency markets. "I never saw that coming" – No One
Oh, Hell NO: The fanny pack is apparently making a comeback.  Can cargo pants aren't far behind?
Bold Vision: Bill Gate just purchased a 24,800-acre parcel of land on the Phoenix area's western edge with the intent to apparently build a "smart city".
Chart of the Day
Declining Fortunes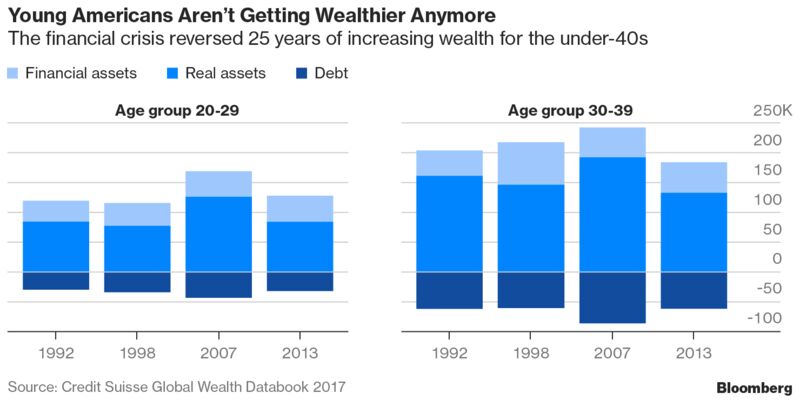 WTF
Inspirational AF: An Alabama man who said he tripped and broke his hip while buying a watermelon at a Walmart store has won a $7.5 million verdict in his lawsuit against the retailer.  Looks like he'll finally be able to afford that Roll Tide vanity plate for his pickup.
It's Nice! Six Borat fan tourists were arrested for wearing mankinis in Kazakhstan because some people just don't have a sense of humor.
Hamburglar: A rather large Maryland woman was arrested after a security video of her breaking in through a McDonalds drive through window and stealing a bunch of their disgusting food went viral.  Bonus points for butt crack and tramp stamp footage in the video.
Landmark Links – A candid look at the economy, real estate, and other things sometimes related.
Visit us at Landmarkcapitaladvisors.com