Must Read: Money is pouring into alternative lending funds in unprecedented amounts as investors seek both yield and protection in the late stages of a bull market.  These funds are beating banks on both proceeds and flexibility and the massive capital flows are driving borrowing costs down.  However, some have begun to question if the high leverage they frequently provide is a sign of frothiness in the market.
Economy
Hawkish: The Fed is largely expected to raise rates again next week as growth, unemployment and inflation all suggest an upward shift at the lower end of rate projections.
Healed: A decade after the average American FICO score hit a low of 686, the number is now at it's highest point ever at 704.  However, warning signs are starting to appear as credit card delinquencies jump.
The Great Divide:  Wealth inequality is steeper than it's been at any time over the past 50 years and it doesn't appear to be getting better anytime soon.
Commercial
Raising the Bar: Amazon's two day shipping via Prime has upended the retail industry and set off a frenzied rush for prime warehouse real estate.
Going Small: Local and regional banks are the fastest-growing commercial real estate lenders as larger banks continue to proceed with caution.
Residential
Knocking off the Rust: Millennials are beginning to move to once-neglected flyover country as affordable housing, remote working options and growing economies draw young people from the expensive coastal markets.
Yikes: After falling for much of the past decade, household debt is on the rise again and millions of Americans are thinking about tapping into home equity to keep up with day to day expenses as real wages stagnate.
Under Pressure: Rising construction costs and interest rates are making it difficult for low income housing tax credit development deals to pencil.
Profiles
Now, This Makes Sense: A private, Florida based company is resuscitating a dormant high speed rail project from Los Angeles to Las Vegas.  Unlike, the state-backed bullet train to nowhere, actual people would ride this.
Infuriating: Nearly half of cellphone calls will be scams by 2019.
Undercover: How Puerto Rico became the newest tax haven for wealthy Americans.
Chart of the Day
Home owners don't want to sell and builders (and their capital) do not want to take much if any spec construction exposure.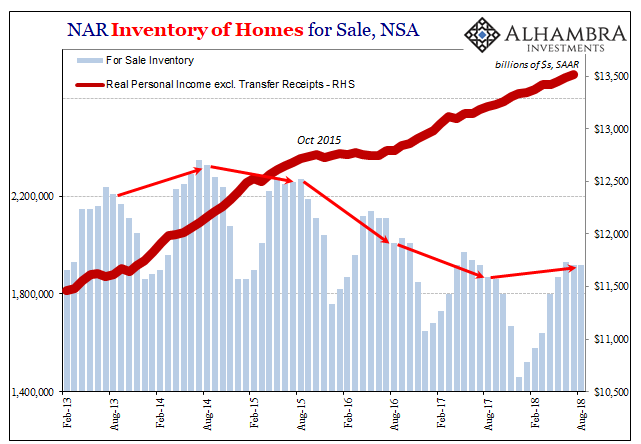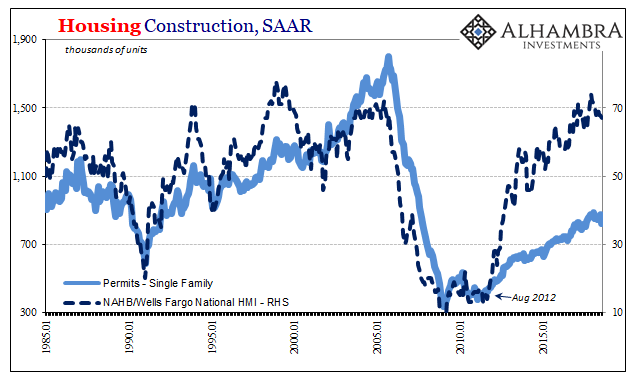 Source: Seeking Alpha
WTF
Not How It Works: A German triathlete was banned from an all-you-can-eat sushi restaurant for eating all that he could.
Let It All Hang Out: A neighborhood is up in arms about a man doing yard work in the nude because Florida.
Kill it With Fire: A two-headed poisonous copperhead snake was discovered in Virginia over the weekend.  There is a video and its just as terrifying as it sounds.
Landmark Links – A candid look at the economy, real estate, and other things sometimes related.
Visit us at Landmarkcapitaladvisors.com