Must Read: Rents are rising across the country in the office sector but the cost of tenant improvements are rising much faster and landlords are increasing scope in an effort to out-amenitize their competition. For now, the result is declining landlord margins.  However, things could get much uglier when the next downturn hits and landlords have a difficult time extracting value from overbuilt TIs.  This is typical for a mature market cycle but it's worse this time thanks to WeWork's building specs upping the industry standard. Side note: this is why office is generally my least favorite commercial real estate product type.
Economy
Reading the Tea Leaves: A key spread in the US Treasury yield curve – the 3m10s – is now suggesting that there is nearly a 33% chance of a recession hitting the United States within the next 12-months. Domestic recession fears thanks to the US-China trade war have led to markets predicting 90% chance of 50-bps of interest rate cuts by the end of the year, and a 51% chance of 75-bps of interest rate cuts.  See Also: Fed testimony this week all but confirmed that they will be cutting rates at the next meeting.
Bottom of the Barrel: It's not just sovereign debt yields that are plunging, NEGATIVE YIELDING JUNK BONDS are now a thing in Europe.
Sale of the Century: Returns on so-called century bonds – or those with 100-year terms – have been incredible this year with interest rates plunging.  It still shocks me that the US Treasury isn't extending maturities as long as possible when rates are this low.
Commercial
Momentum: The LA Times has now jumped on the cold storage growth play story, reporting that rising demand for online delivery, coupled with consumer preferences for fresh food will result in additional demand for 100 million square feet of temperature-controlled warehouse in the next five years.  To give you an idea of how substantial this is, consider that CBRE estimates that the entire cold storage market in the US today consists of only 214 million square feet!
Arms Race: After years of little-to-no investment, interest in commercial property tech platforms continues to soar.
Overcrowding: One of the fastest-growing trends in retail -the food hall – has expanded exponentially over the last three years. But retail experts say some property owners are trying to force them into spaces where they are unlikely to succeed like empty retail space with little activity nearby.
Residential
Supply and Demand: The massive discrepancy in housing costs between the coasts and the Sunbelt is all about a lack of new units, not wages.  The comparison is mind-blowing:
Little giant Raleigh is now building one house for every 278 members of its workforce. Atlanta trails, but is also doing well, posting a worker to new house ratio of 457. In Seattle, one house rises for every 843 workers. And Los Angeles, a pacesetter in everything from green energy to high-speed rail to avant-garde architecture, is the superstar in suppressing new housing. One single-family home is now being built for every 3,427 resident with a job, one-seventh as many as in Atlanta and one-twelfth the number per worker as in Raleigh.
Out in Front: Construction subcontractors in the multifamily sector are raising prices in advance, even if China tariffs have not yet made an impact on materials prices, leading to the delay or cancellation of some projects.
Profiles
Sign of the Times: Millennials are driving hundreds of miles to take selfies at a stretch of highway in Ridgecrest, CA that split during the two major earthquakes last week.
Natural Solution: A new scientific study found that by far the best and cheapest way to reduce carbon in the atmosphere is to plant billions of trees in areas that currently have none.
Untouchable: Despite playing in New York and having an iconic franchise, the Knicks' epic front office incompetence makes them a no-go-zone for elite NBA free agents.
Chart of the Day
Builders are pivoting hard towards lower priced offerings.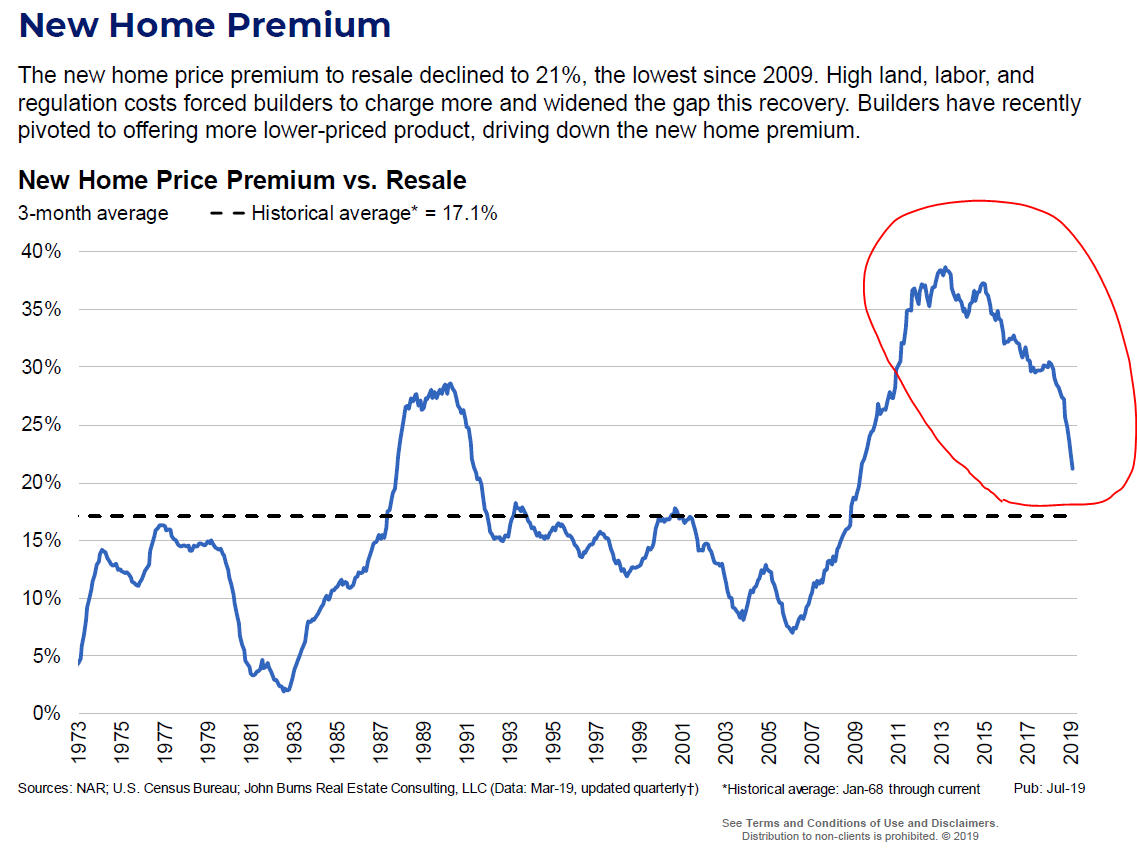 WTF
Flavor Town: A woman was arrested for walking into an ice cream store and urinating in an ice cream machine because Florida.
It's Lit: A woman was photographed setting her hair on fire on a NYC subway earlier this week.  Absolutely nothing that happens on a subway in NY would even remotely surprise me at this point.
Exotic Pet: A man caught illegally feeding a wild 10-foot alligator named "Hank," resisted arrest claiming that the animal was "a good boy" who "loves bagels" because Florida.
Landmark Links – A candid look at the economy, real estate, and other things sometimes related.
Visit us at Landmarkcapitaladvisors.com