Must Read: Falling mortgage rates haven't had a major impact on the housing market yet in 2019.  However, listing trends in more affordable price ranges indicate that inventory could get very tight later this year if/when buyers begin responding to lower rates.
Economy
Unsolved Mystery: The trade off between jobs and inflation – known as the Phillips Curve – has disappeared in this cycle, spurring to a rare bi-partisan call for lower interest rates.
Pushing on a String: Weak demand at recent long-term treasury auctions could be signaling a reversal in yields even as the Fed signals coming cuts.  Can an un-inversion of the yield curve be on its way?
On The Move: U.S. manufacturers are shifting production to countries outside of China as trade tensions between the world's two biggest economies stretch into a second year. So far, the big winners have been other countries in Asia where production costs are low: Vietnam, India, Taiwan and Malaysia.  There is little evidence of any US manufacturers bringing production from China back to the US.  See Also: China's economic growth has hit a 27-year low as the trade war takes its toll.
Commercial 
The Future is Here: Kroger has announced its 4th high-tech customer fulfillment center, focused on filling online grocery orders in conjunction with UK-based online grocer Ocado.  The 375,000 sf facility will cost $55mm to develop and is expected to open in 2021.
Just Right: Midsize industrial tenants—those who occupy 50,000-sq.-ft. to 300,000-sq.-ft. boxes, are driving industrial demand in key markets thanks largely to eCommerce and last mile distribution.
Residential
Saturated: Prices for US student housing has never been higher, rising to an average of nearly $92,000 per bed. This is largely due to the massive influx of REIT and cross-border investors who now make up 50% of the market – up from only 30% a few years ago.
No Place for Old Men: There are a lot of options for wealthy seniors when it comes to picking a place to retire.  However, those in the middle-income segment have very few choices.
Profiles
Arbitrage: Meet the nomad merchants traveling the back roads of America searching clearance aisles and dying retail chains for goods that can be resold for a higher price on Amazon.
Point and Click: The future of trucking may not be autonomous vehicles but rather remotely driven ones where driving becomes a desk job.
The Struggle is Real: Legacy consumer brands are struggling to maintain market share as upstarts leverage social media to make inroads with shoppers and the value of TV advertising plummets.
Chart of the Day
I think that this constitutes a trend, guys……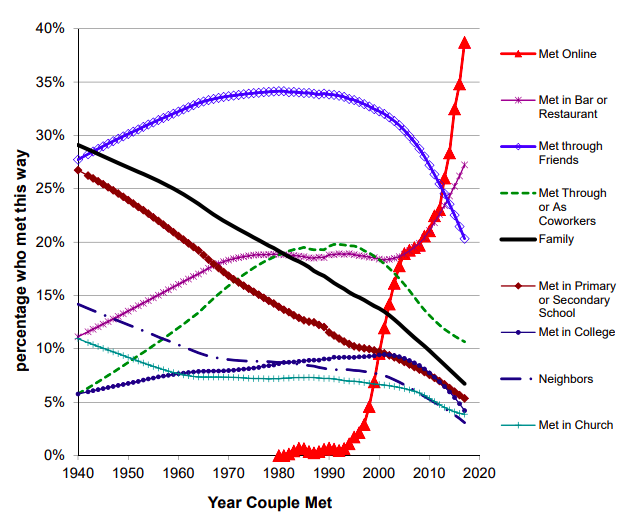 Source: Stanford
WTF
Glowing: Instagram influencers are flocking to a bright blue lake in Siberia to take pictures.  The only problem is that it isn't a luxurious oasis.  It's a man-made toxic waste site that the local power plant has been warning people to stay away from.  This is what happens when you mix millennials with Russians.
Sounds Like a Party: A man was arrested for driving a stolen vehicle filled with uranium, a rattlesnake and a bottle of Kentucky Deluxe whiskey because Oklahoma.
I Hear Ya: A loud fart gave away a suspect's location and resulted in his arrest.  Let this serve as a lesson to all of you: NEVER eat at Taco Bell before committing a crime.
Hold My Beer: A man died of salmonella after eating a gecko as a stunt at a drunken party because Darwin (h/t Katie Ellis)
Additional Fiber: A woman found a small doorknob in her nachos because Taco Bell.  A test that was later run determined that the doorknob was indeed the healthiest ingredient in the nachos, leading the chain to consider adding it as an optional topping. (h/t Trevor Albrecht)
Landmark Links – A candid look at the economy, real estate, and other things sometimes related.
Visit us at Landmarkcapitaladvisors.com