First off, I'd like to wish each and every one of you a very happy Thanksgiving.  I've really enjoyed writing this blog over the past year and a half or so and am very thankful to all of you for visiting it.  This is going to be my only blog post this week as I'm certain that you have better things to do on a long holiday weekend than surf the web as do I.  Enjoy the time with your loved ones and we'll be back full time next week!
Lead Story… Every once in a while, I come across a profile that is so fascinating that it makes sense to feature it here even if it's not real estate related.  Today's lead story feature is a long-form Bloomberg profile of Renaissance Technologies (and the employees-only Medallion Fund  in particular), the world's most successful and possibly most secretive hedge fund.  I found this particular story so intriguing because it gives the reader a great glimpse of what it takes to be the best in a deeply cutthroat industry and how adaptation is key, even if you are on top.  It's a fairly long read so it's perfect for the upcoming long weekend.
Anyone who follows financial media has heard that hedge funds have had a rough go of it lately.  The strategies that they employ are getting crowded with competitors making it hard to find an edge, leading to benchmark under-performance and pressure to cut fees or face redemptions.  However, there is at least one fund, run by a highly secretive team of PHD's, mathematicians and scientists that hasn't just beaten the market. It's torched the market, it's competitors and pretty much any asset class that you can imagine since the late 1980s…and that's AFTER you account for it's astronomical fee structure. That fund is Renaissance Technologies Medallion Fund (whose only investors are Renaissance employees) which was founded by Jim Simmons.  BTW, this is not a Madoffesque scheme just waiting to blow sky high once the market turns.  It's very real.  From Bloomberg's Katherine Burton (emphasis mine):
The fabled fund, known for its intense secrecy, has produced about $55 billion in profit over the last 28 years, according to data compiled by Bloomberg, making it about $10 billion more profitable than funds run by billionaires Ray Dalio and George Soros. What's more, it did so in a shorter time and with fewer assets under management. The fund almost never loses money. Its biggest drawdown in one five-year period was half a percent.

"Renaissance is the commercial version of the Manhattan Project," says Andrew Lo, a finance professor at MIT's Sloan School of Management and chairman of AlphaSimplex, a quant research firm. Lo credits Jim Simons, the 78-year-old mathematician who founded Renaissance in 1982, for bringing so many scientists together. "They are the pinnacle of quant investing. No one else is even close."

Few firms are the subject of so much fascination, rumor, or speculation. Everyone has heard of Renaissance; almost no one knows what goes on inside. (The company also operates three hedge funds, open to outside investors, that together oversee about $26 billion, although their performance is less spectacular than Medallion's.) Apart from Simons, who retired in 2009 to focus on philanthropic causes, relatively little has been known about this small group of scientists—whose vast wealth is greater than the gross domestic product of many countries and increasingly influences U.S. politics—until now. Renaissance's owners and executives declined to comment for this story through the company's spokesman, Jonathan Gasthalter. What follows is the product of extensive research and more than two dozen interviews with people who know them, have worked with them, or have competed against them.

Renaissance is unique, even among hedge funds, for the genius—and eccentricities—of its people. Peter Brown, who co-heads the firm, usually sleeps on a Murphy bed in his office. His counterpart, Robert Mercer, rarely speaks; you're more likely to catch him whistling Yankee Doodle Dandy in meetings than to hear his voice. Screaming battles seem to help a pair of identical twins, both of them Ph.D. string theorists, produce some of their best work. Employees aren't above turf wars, either: A power grab may have once lifted a Russian scientist into a larger role within the highly profitable equity business in a new guard vs. old guard struggle.

For outsiders, the mystery of mysteries is how Medallion has managed to pump out annualized returns of almost 80 percent a year, before fees.
Fees, by the way are 5% on the AUM and 44% of the profits.  So, yeah it's expensive but the after-fee returns are nothing short of spectacular.  By the way, this is an employees only fund so they are investing their own cash.  No outsiders allowed.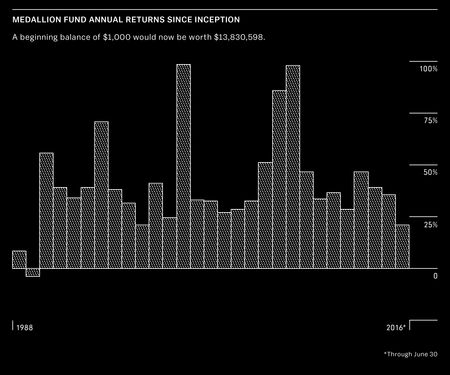 There are a couple of points in the article that describe what makes Renaissance different different from most funds.  The first was that they are looking to hire mathematicians, coders and PHD's, not your typical Wall Street folks:
Encouraged by Medallion's success, Simons by the mid-'90s was looking for more researchers. A résumé with Wall Street experience or even a finance background was a firm pass. "We hire people who have done good science," Simons once said. The next surge of talent—much of which remains the core of the company today—came from a team of mathematicians at the IBM Thomas J. Watson Research Center in Yorktown Heights, N.Y., who were wrestling with speech recognition and machine translation.
If you want to outperform, you have to be different from everyone else.  In a highly competitive field, there isn't much of an edge to be had by doing the same thing as your competitors and trying to be better at the margins.  To truly bring performance to the next level, it's sometimes imperative to go about doing things in a completely different way.  The second thing that caught my eye was the focus on data.  Not just gathering data but rather compiling it in such a way that it's usable in testing an investment thesis:
Renaissance also spent heavily collecting, sorting, and cleaning data, as well as making it accessible to its researchers. "If you have an idea, you want to test it quickly. And if you have to get the data in shape, it slows down the process tremendously," says Patterson.
The business that Renaissance is in is possibly the most data intensive of any field and they have mastered gathering and use of that data in a way that few have.  The third, and perhaps most critical success factor highlighted in the article was the willingness to constantly adapt, despite perpetually outperforming their peers:
In the early days, anomalies were easy to spot and exploit. A Renaissance scientist noted that Standard & Poor's options and futures closing times were 15 minutes apart, a detail he turned into a profit engine for a time, one former investor says. The system was full of such aberrations, he says, and the scientists researched each of them to death. Adding them all up produced serious money—millions at first, and before long, billions.

But as financial sophistication grew and more quants plied their craft at decoding markets, the inefficiencies began disappearing. When Mercer and Brown joined they were assigned to different research areas, but it soon became apparent they were better together than apart. They fed off each other: Brown was the optimist, and Mercer the skeptic. "Peter is very creative with a lot of ideas, and Bob says, 'I think we need to think hard about that,' " says Patterson. They took charge of the equities group, which people say was losing money. "It took them four years to get the system working," says Patterson. "Jim was very patient." The investment paid off. Today the equities group accounts for the majority of Medallion's profits, primarily using derivatives and leverage of four to five times its capital, according to documents filed with the U.S. Department of Labor.
If you're on top, it's fairly easy for stagnation to take hold.  After all, why change things if you're outperforming all of the time?  The ability and willingness to constantly evolve without allowing performance to slip is easier said than done.  If you have time this weekend, you won't regret reading the entire piece.
Economy
It's a Long Way Down: A protracted bond bear market is not a sure thing.  That being said, a lot investors searching for yield in long duration instruments are doing the equivalent of picking up nickels in front of an oncoming bulldozer.
Of Broken Clocks: The perennial cycle of "experts" predicting recessions is a complete joke.
The Void: Vocational training was once the norm in high schools.  In the era of hyper-competitive college prep it's fallen by the wayside.  Here is why we desperately need it to return.
Commercial
Cookie Cutter: You can thank banks and their insistence on credit retail tenants in order to get project financing for the chain stores that are taking over much of America.
Residential
Please Make it Stop: A 157 unit condo project in San Francisco's Mission District proposed by Lennar got shot down in a massive way last week.  That, in and of itself isn't news.  What I do find incredible is these two quotes from an excellent synopsis of the NIMBY shit show (it was extreme even by SF's incredibly low standards) from CurbedSF:
Many of reasons were given, but the one that stands out most is the frequent references to President-elect Donald Trump, who may well have clinched the decision against developer Lennar.
Some called the development racist, and the sitting supervisors racists too. One referred to rich homeowners as an "invasive species." Another delivered his argument with a Bernie Sanders puppet.
I haven't a clue how a building could possibly be racist nor what Donald Trump has to do with a proposed development in a city where probably a dozen-or-so people actually voted for him.  Combine that with the absurdity of a sock puppet speaking at a public hearing and that, kids, is why we can't have nice things at least when it comes to housing in California.
A Step in the Right Direction: Housing starts surged in October but still have a long, long way to go.
Assembly Line: A shortage of construction workers in many US markets has builders turning to a potential solution that they have traditionally derided: prefab production.
Profiles
Best Shot: Why this is probably our last best chance to fix our infrastructure and refinance America's debt into longer maturities at low rates.
Just in Time for Black Friday: I have a much better idea for you than standing in line at your local mall or Walmart waiting to do battle with fellow shoppers over a toaster oven.  Instead, check out Honey, the browser add-on that automatically applies coupon codes to your online order and finds the lowest price on Amazon.  Whoever invented this deserves a Nobel Prize if only for doing something to reduce some of the chaos early this Friday morning.  You're welcome.
Beyond Just Texting: Cars are safer than ever but we just experienced the biggest spike in traffic deaths in 50 years.  The likely reason?  Apps that encourage driver interaction and serve as a distraction to drivers.  See Also: Tech-distracted drivers are turning parking lots deadly.  And: Rain triggers 570% increase in LA freeway crashes because LA drivers suck.
Chart of the Day
Source: CNBC.com
WTF
Just When You Thought The Election Was Over: A mall Santa Claus in Florida (of course) was recently relieved from his duties for telling kids that Hillary Clinton was on the naughty list.
Extra Sausage: A naked man was caught breaking into a pizza parlor in Maryland on a surveillance camera.  He caused several thousand dollars in damage but only got away with some change and is still at large.
Pole Position: Someone apparently thought that it was a good idea to have a pole dancing float in a North Carolina holiday parade.  The entire state of Florida is pissed that they didn't think of it first.
Landmark Links – A candid look at the economy, real estate, and other things sometimes related.
Visit us at Landmarkcapitaladvisors.com