Lead Story…. Earlier this month we linked to a story about how the already-reeling CMBS market was about to take another hit via a "risk retention" provision due to take effect later this year that would take a big chunk out of issuer profitability.  The House Financial Services Committee voted on a bill dubbed the Preserving Access to CRE Capital Act which would lessen the potentially devastating impact on CMBS.  It passed with bi-partisan support:
The bill would exempt single-asset or single-borrower CMBS from the risk retention rule. It would also make it far easier for CMBS pooled together from different borrowers to get an exemption, for example by scrapping term requirements.
Pretty much every commercial real estate trade group in the US supports this bill for good reason according to Konrad Putzier from The Real Deal:
In February, turmoil in global bond markets and the prospect of risk retention rules combined to drive mid-sized CMBS lender Redwood out of business and led to broader concerns over the health of the CMBS market. "We have concluded that the challenging market conditions our CMBS conduit has faced over the past few quarters are worsening and are not likely to improve for the foreseeable future," the firm's CEO Marty Hughes said in a statement on Feb. 9.

Bond markets have since calmed. The spread between 10-year Treasury swaps and most types of CMBS bonds fell between February and April, according to Trepp.

But the onset of risk retention could drive spreads up again at the worst possible time. A staggering $99.47 billion in U.S. CMBS loans are set to mature in 2017 – up from $52.42 billion this year – according to a recent report by Morningstar Credit Ratings. 46.9 percent of those loans have a loan-to-value ratio of 80 percent or more (see chart above), and Morningstar reckons "successfully refinancing many of these loans will be very difficult without sharp improvement in cash flow through 2017."
It still needs to be voted on by the full House but this is a step in the right direction.  If lawmakers decide that they want to crack down now to lessen future risk of this sort, it could lead to some very rough times for the industry with the mountain of maturities in 2017.  Stay tuned…. (h/t Ethan Schelin)
Economy
Casino is Open for Business:  For those of you who haven't noticed, commodities from oil to metals have rallied hard over the past few weeks, leading in part to the Federal Reserve openly pondering whether or not to raise rates in June.  However, fundamentals haven't really changed.  Commodity markets are still oversupplied and economic data from both China and the United State is still soft at best.  Rupert Hargreaves over at Value Walk explains what has changed: Chinese investors are pouring money into the commodity future casino betting on more infrastructure stimulus:
It has since been touted that the tidal wave of money hitting commodity futures could be from the legions of private investors in China who are looking for somewhere to park their excess cash or gamble with.

This new market phenomenon coming out of China is something Bank of America Merrill Lynch's China equity strategy research team looked at last week in a report titled, Commodity futures, Game of Thrones?….

….As China's economic outlook is still extremely uncertain and investors are reluctant to invest in any real businesses, they have been shifting money around to invest/speculate in various assets that they believe have a good chance of increasing in price. China's A-share rally, corporate bond rally and most recently the spike in demand for properties is possibly all the evidence you need to support this view.  Add loose credit conditions, margin trading and a small market that's relatively easy to manipulate into the mix and you get all the right conditions for an asset bubble.
The BAML report sited above used this chart to illustrate the point of just how much money is pouring into the Chinese commodity futures markets:
The reason that I'm posting this is twofold: 1) Sometimes fund flows between asset classes or rank speculation is more important than fundamentals in the short or even medium term; and 2) This sort of thing could have a very real impact on the US economy if it persists and the Federal Reserve starts to see the impact of higher commodity prices in real inflation data.  In other words, don't believe everything that you see.  See Also: In (not at all) coincidental news, commodity hedge funds are hot again.
Avoid at All Costs: In a sign of just how much tech companies are shunning the public markets, there could be more tech de-listings than IPOs in 2016.  See Also: Tech companies are raising money under "dirty" structured deals with toxic terms in order to maintain sky-high valuations and avoid going public as VC investment continues to wane.
Commercial
On the Ropes: Suburban malls are hot garbage right now as anchor tenant department stores are closing up in droves, often causing a reduction in foot traffic that kills off other smaller retailers and results in virtual retail ghost towns.  This may not be an issue for high end retail centers but I can't imagine a worse landlord situation than a mall anchored by Sears, JC Penny, KMart, etc.
Residential
Last One In: I'm generally a huge fan of the OC Housing News site.  This has to be one of Larry Roberts' (Irvine Renter) best posts ever:
Whenever a family buys a new house, the builder constructed that house only because no local opposition group was strong enough to prevent its construction; however, once new homeowners move in, many of them immediately adopt the belief that traffic congestion is out of control and any new development will ruin the character of their neighborhood, so these nimbys band together to prevent others from obtaining the same benefit they enjoy. Through willful ignorance, these new homeowners fail to comprehend the hypocrisy of this attitude and behavior.
Undue Risk: Believe it or not, Turkey has the world's best performing housing market right now despite social unrest and the myriad of problems associated with sharing a border with Syria.  Generally speaking, Turkish borrowers are lightly leveraged and have an extremely low rate of default.  However, the Turkish home building market is beginning to show some serious signs of distress with sales slowing, incentives increasing non-performing development loans on the rise.  Why, you ask?  For one, developers are getting way, way over their skis in terms of leverage.  From Bloomberg earlier this week:
The share of Turkey's borrowing represented by developers is higher than at any time in the last decade, and represents almost a fifth of all corporate loans, according to the nation's banking association. An increasing portion of those debts is going bad, with the industry's portion of non-performing loans nearly doubling in the past five years.

"Mortgages are not the problem," said Ercan Uysal, a banking analyst at Istanbul-based research firm Integras. "Developer leverage is."
That sounds bad but it gets much, much worse.  It seems as if Turkish developers are also taking currency risk on top of the risk inherent in development in an effort to prop the market up and have now exposed their balance sheets to the whims of the US Federal Reserve.  Turkish developers are taking on debt and then offering below-market financing to home buyers as a loss leader:
To keep sales brisk, builders are helping buyers defray their costs. For instance, at Istanbul's $1.5 billion Maslak 1453 development, whose name recalls the Ottoman conquest of Constantinople, the developer is offering to secure below-market interest rates and accept a 10 percent deposit — below the 25 percent minimum required for a bank mortgage…..

The dangers of a weakening currency are exacerbated for builders, because they account for a disproportionate share of Turkey's foreign-exchange borrowing, Narain said. That creates a risk when their income is mostly in lira, a currency whose value eroded 20 percent over the course of last year.

Developers made up a fifth of the companies gaining bankruptcy protection from creditors in the first three months of this year, the most of any industry, Uysal said, citing figures from sirketnews.com, which compiles the data.
You read that correctly, they are borrowing in foreign currency (mostly dollars) when their revenues are in lira.  This would be very profitable if the dollar fell in value vs. the lira. That hasn't been the case lately as Federal Reserve moves and rhetoric have driven the dollar higher, hitting Turkish developers hard.  I have never been involved in a real estate deal in Turkey but I can assure you that this doesn't end well.  The developers are essentially taking foreign exchange risk in order to offer below market financing to buyers to boost absorption.  Development is risky enough without trying to take a currency bet to boost sales.
Not What it Used to Be: The wealth effect from rising home prices has been cut in half: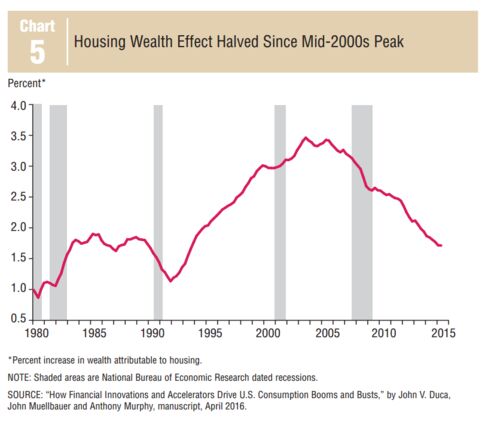 But See: Why the wealth effect is bunk.
Profiles
A Whale of a Problem: A 60,000-pound grey whale washed up on the beach at Lower Trestles San Onofre State Beach last weekend (it died of natural causes), drawing tourists and locals to pay their respects and take pictures.  Now comes the hard part for the California State Park System: exactly how do you get rid of a 30-ton rotting whale carcass that's attracting sharks and stinking up the beach?  According to one resident: "It's like the worst garbage smell you can think of," he said, his eyes watering. "I almost threw up. It's like death."  Exactly what you want on your beach as we head into summer.  Apparently, the beach isn't wide enough to bury the whale and it can't simply be pushed into the ocean because the currents will likely push it back on the beach again.  The solution that officials have come up with is to chop it into pieces and take it to a landfill. As disgusting as that sounds, there aren't many options and the situation is only going to get worse the longer that the whale stays on the beach decomposing. On the bright side, at least officials appear to have learned from past failures.  Back in the late 1970s, Oregon state highway officials strapped dynamite onto a dead rotting whale and attempted to dispose of it demolition style. That ensuing disaster that crushed a car 1/4 mile away lives on in what I still consider to be the most un-intentionally funny news segment ever aired.
Chart of the Day
Submitted from Visual Capitalist
WTF
Employee of the Month: Watch a disgruntled airport employee destroy a jet with a backhoe.  I'm guessing this happened in Russia  mainly because this seems like something that would happen in Russia.
That Wasn't on the Menu: Customer found a deep fried chicken head, beak and all in their meal at a fast food restaurant in France.  Let this be a reminder to all of you that fast food is disgusting.
Well Paid: Meet the Minnesota auto body shot owner who (allegedly) compensated his employees with meth bonuses.
Landmark Links – A candid look at the economy, real estate, and other things sometimes related.
Visit us at Landmarkcapitaladvisors.com