Lead Story… Former Federal Reserve Chairman Paul Volker once said that the only useful modern financial innovation was the ATM.  While that's a rather harsh assessment, there is a bit of truth to it.  Too often, financial products ranging from subprime loans, to derivatives to leveraged ETFs are created more as profit and marketing opportunities for those selling them than they are to fill an actual need of the people that they are being sold to.  That being said, I'm still somewhat fascinated by the FinTech industry because there are segments of the market that are not covered by traditional sources where FinTech companies can provide real value to consumers.  There have been several such products from online mortgage lenders to crowd funding platforms for real estate deals that fill a need.  I'm especially interested when a FinTech startup is aimed at our beleaguered national housing market.  Last week, top tier Venture Capital investor Andreessen Horowitz announced a new venture called Point which was created to invest in a portion of the equity in a home in exchange for a portion of the return when you sell or refinance.  Point lowers a homeowner's monthly payment because you don't pay current on Point's equity investment and that all of their profit is realized upon sale or refinance of the home. Although this reduces a homeowner's current pay, it could cost a lot more in the long term depending on whether your house appreciates and by how much.  When Point was announced via press release, the financial blogosphere when into a bit of a tizzy which was somewhat predictable given that: 1) The concept of offloading equity in a home, typically a family's largest asset, has been around for some time but this seems to be the first time someone has attempted to do it in scale; and 2) Andreessen Horowitz is known for making smart investments – so people naturally assume that their involvement validates Point's business plan.  I wanted to hold off on offering my opinion until I had time to do a bit of reading and research on the product.  There is still  a lot of information that hasn't been released on how the product works but I've been able to piece together enough to get a decent ideal.
First off, let's explain how the product works.  The best way to do that is probably the example from their own website:
Check if you qualify

Enter your address and answer a few questions. The process is free and takes less than 5 minutes.

5 minutes

You provide us with basic information about your home and your household finances.
To be eligible for Point, you'll need to retain at least 20% of the equity in your home after Point's investment.
We can instantly give you pre-approval or denial based on the information you provide.

Point Makes you an offer

Point makes a provisional offer to purchase a fraction of your home. We will provide you with an offer based on the value of your home today.

1-3 days

If pre-approved, we provide a provisional offer based on the data you provide.
The offer is typically for between 5% and 10% of your home's current value.
We'll ask you to complete a full application and provide documentation for our underwriting team.
If possible, we will improve on our pre-approval offer.

Schedule an in-person home visit

Pick a time for a licensed appraiser to visit you. We want to ensure the price is correct by checking the place out — no cleaning necessary 🙂

5-8 days

We will schedule time for a home valuation visit.
You will be charged for the cost of the appraisal, which is typically between $500 – $700.
The appraiser will visit and inspect your home.
We will share the appraiser's report with you once it's complete. The appraiser's value is an important component of the final offer.

Point pays you

We usually send the money within 4 business days of closing.

3-5 days

We finalize the offer following the appraisal and receipt of all supporting application documents.
You will meet with a notary to sign the Point Homeowner Agreement.
Point files a Deed of Trust and Memorandum of Option on your property in your county recorder's office.
Once the filings have been confirmed, we transfer the offer funds (less Point's processing fee of 3% and the escrow fee) electronically to your bank account.

Sell the home or buy back from Point when the time is right for you

Point is paid when you i) sell your home, or ii) at the end of the term, or iii) during the term, when you choose to buy back. Regardless of the timing, there's no early buyback penalty.

1 to 10 years

If you sell your home within the term then Point is automatically paid from escrow.
If you don't sell, you can buy back Point's stake at any time during the term at the then current appraised property value.
Point is paid a fraction of the home's value. If the home has declined significantly in value, Point may be due less than its original investment.
 Sounds simple enough but as usual, the devil is in the details.  A few caveats:
Point collects a processing fee of 3% upfront in addition to appraisal and escrow fees
You need at least 20% equity in your home to qualify
You are guaranteeing repayment in 10 years
Point is in a preferred position, meaning that they get paid first in the event that your home loses value
When Point first went live last week, they gave an example of their pricing on their website (they have since taken it down for some reason).  In this example, Point put up 10% of the value of the home and received 20% of the appreciation (net of any improvements done by the home buyer in return.
One of the primary issue holding back the market is a lack of capacity for down payments by first time home buyers.  Low interest rates may be great for monthly payment affordability but they do nothing when it comes to a buyer's ability to save a 20% down payment for a conforming loan.  There is a real need for investors in this space and some platforms have tried to tackle it.  For example,
FirstRex
which was
profiled by Bloomberg back in 2013
will put down up to 50% of a homebuyer's downpayment in exchange for a portion of the profit.  However, I am not aware of there being a substantial need for people who already have a large amount of equity in their homes to be able to extract that equity, especially when cheap HELOCs or reverse mortgages ( for seniors) are readily available.  Both HELOCs and reverse mortgages allow an owner to extract their equity WITHOUT giving up 20% of the upside in their home.  In order to illustrate this I ran a scenario outlined in Point's press release.  For the sake of simplicity, I didn't include property taxes, insurance or maintenance as these would be the same with or without Point.  I also didn't include any loan fees in an effort to keep things simple.  This analysis has 2 scenarios:
Scenario 1: Borrower buys a home for $500k.  Borrower takes out a $400k with a down payment of $100k.  The mortgage has a 4% coupon.
Scenario 2: Borrower sells $50k in equity (10% of the total value of the home to Point, reducing the loan size to $350k, again with a 4% coupon.  Under this scenario, Point gets 20% of the home price appreciation.
As you can see, it's substantially less expensive to use a traditional mortgage if you experience any home price inflation – and Point's website and press release both imply that it will be targeting higher priced markets that will likely experience more inflation.  If a borrower lives in a market that experiences home price inflation of less than 2%, Point makes some sense.  Above that, it doesn't appear to.
So what's the Point (Pun fully intended)?  IMO, this would be a great investment program if it were structured as some form of down payment assistance (like the FirstRex example above) – I'm even willing to bet that they could get more aggressive splits if it were designed to fill that substantial need in the market.  However, as currently offered, it's an expensive preferred position that sits in front of a substantial amount of equity (again, assuming that there is any home price inflation).  I'm just not sure that there is much of a need for a product that allows people with a lot of equity to extract it from their homes when HELOCs are available, cheap and flexible and reverse mortgages are an option for seniors.  Borrowers that need something like this (and would be willing to pay for it) to defray their down payment can't qualify and those who would qualify have better options if they want to extract equity from their homes or finance a purchase.  As such, I just can't see how this is something that will be very scalable in it's current form.
Economy
Surprise, Surprise: The Fed chose not to raise rates at their meeting this week but signaled that 2016 rate increases are still likely.  For those keeping track at home, they did exactly the same thing that they've done at pretty much ever meeting this year.
You Want Cream or Sugar with That? Yes, there is a Millennial underemployment crisis but it only extends to those with liberal arts degrees.
Commercial
Bottom of the Barrel: The ongoing dumpster fire that is K-Mart announced that it's closing 64 stores and laying off thousands of employees.  I honestly had no idea that there were 64 K-Marts still open to begin with.
Going Long: Blackstone jumped back into the logistics business after selling IndCor Properties in 2015 by purchasing a $1.5 billion mostly-west-coast portfolio from Irvine-based LBA.  See Also: How Amazon is eating the department store, one department at a time.
Residential
Flipper's Back: Home flipping continues to make a comeback and is now at it's highest level since 2010.  A lot of the activity has been taking place in secondary markets like Fresno which could be a good sign that things are getting better.
Soaring: According to the Federal Reserve Bank of St. Louis, urban rents in US cities are rising quicker than they have in any time in recorded history.
Kicked to the Curb: Cities are starting to follow New York's example by allowing developers to eliminate or reduce parking requirements for condos and apartments in order to provide more density and cheaper prices.  However, there is a lot of concern over the impact of this move with regards to on-street parking in cities where mass transit infrastructure hasn't kept up.
Profiles
Talking Your Book: One of Lyft's co-founders believes that private car ownership will go the way of Johnny Manziel's NFL career by 2025.
Grudge Match: Tesla's battle with car dealers has the potential to reshape the way that cars are sold in the US.
The Paradox of Leisure: The rich were meant to have the most leisure time. The working poor were meant to have the least. The opposite is happening.  Here's why.
Chart of the Day
Rise of the regional banks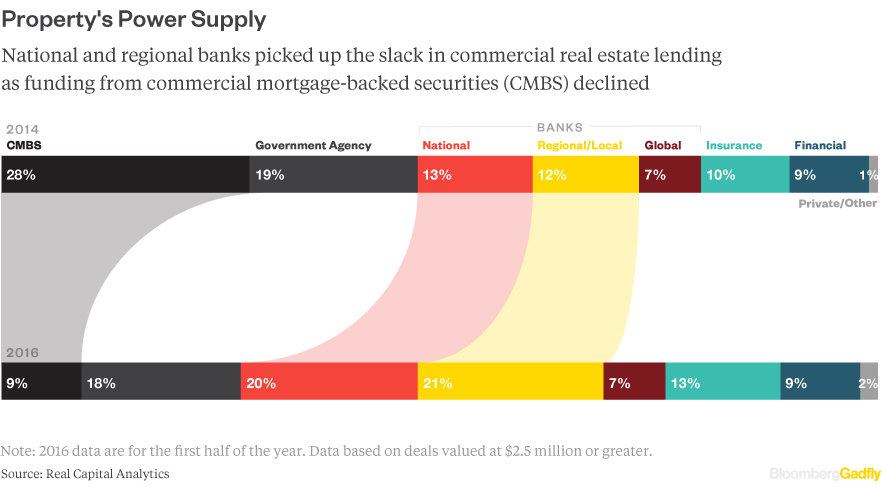 WTF
Terrifying: A crazy woman from New Zealand made a handbag out of a dead cat and is trying to sell it for $1,400.
Broken Clocks: Brangelina broke up this week, meaning that those tabloid headlines that you've seen every time that you go to the grocery store for the last 10 years were finally correct.  If you believe Us Weekly, they broke up at least 31 times in the last decade.
Hero: Meet the 110 year old British woman who attributes her longevity to drinking whiskey on a daily basis.  See Also: New study suggests that people who don't drink alcohol are more likely to die young.
Hell NO: South Carolina residents warned about clown trying to lure children into woods.
Video of the Day: Watch a diver catch video of great white shark attack on his GoPro off the coast of Santa Barbara (don't worry, no blood).
Landmark Links – A candid look at the economy, real estate, and other things sometimes related.
Visit us at Landmarkcapitaladvisors.com