Lead Story… They say that demographics are destiny and by 2030, 56 countries will have more people aged 65 and above than children under 15.  By 2075, there will be more people 65 and older than children under 15 worldwide.  This is the result of two developments that have been taking place in developed countries for decades: 1) People are waiting longer to have kids and then having fewer of them; and 2) People are living longer.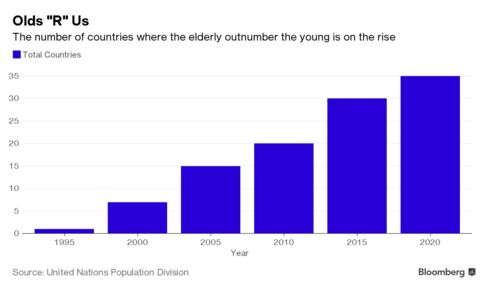 The implications of this demographic imbalance in a world with an ever-growing pension bill are huge.  From Bloomberg:
While the prospect of longer lives is a good thing, problems arise when a shrinking work force cannot foot the pension bill. Several decades ago, you could have had about 10 workers per retiree, but that could shrink to the point where in Italy,  for example, you had three workers per retiree. While the political choices are unsavory — increase taxes or cut benefits — governments are running out of time to act.
As partially outlined above, the potential solutions are relatively straightforward, if difficult:
People in developed countries need to start having more kids.
Retirement ages need to increase substantially since people are living much longer.
Benefits need to get slashed or begin at a substantially older age since pension plans were not designed to support people who live as long as they do today while retirement ages stay the same as they were decades ago.
Option one is a trend that likely won't reverse for a whole bunch financial and cultural reasons so I'm guessing that the solution will have to come from two or three or some combination thereof, both of which are politically toxic in today's global political climate.  Or we could just bury our heads in the sand, pretend that the problem doesn't exist and continue to borrow money to bridge the gap.  On the plus side, at least interest rates are really low……
Economy
Confidence Inspiring: Federal Reserve officials are beginning to question accepted wisdom about what actually causes inflation.
Vultures Circling: PE funds have now raised over $100 billion to buy oil assets that no one else wants.
Pay the Toll: German Banks are now charging depositors to hold deposits as negative rates take a toll.  I've said this before and I'll repeat now: there is no way that this isn't deflationary.
Commercial
Let's Make a Deal: Lease incentives are becoming a major feature of the San Francisco apartment market for the first time since 2009.  See Also: as rental supply grows, landlords negotiate.
Residential
Confidence Game: Home builders are becoming more optimistic about the market for single family homes as the supply of existing homes continues to tighten which they believe will lead to more starts.  One word of caution here: in this cycle, with it's emphasis on proximity to cities, existing homes typically have a large advantage over new homes in that they are both less expensive and have location advantages.  See Also: Calculated Risk says that the slow, sluggish housing recovery is still on track.
Profiles
Plenty of Blame to Go Around: California's gas prices are sky high compared to the rest of the US.  Stringent environmental regulation is partly to blame but that's only part of the story.
Life Lessons: An old friend of mine, Charlie Buckingham recently competed in sailing at the Rio Olympics in the Laser Class.  Charlie finished 11th out of 46, missing out the the medal race on a tiebreaker.  It was a strong finish against the best sailors in the world in arguably the toughest Olympic sailing class, although I know that he had been aiming higher.  He penned an excellent short piece about what he learned on his Olympic journey for Sailing World Magazine.  The article is ostensibly about sailing but extremely applicable to life in general.  Here's a quick excerpt but I'd highly recommend reading the whole thing:
Plan to be flexible
Sailboat ­races are in a constant state of flux. The fleet changes positions around you, the wind shifts and changes velocity, and you need to keep your own boat moving as fast as possible at all times. All of this makes it hard to plan the perfect approach in ­advance. Detailed plans can even give a false sense of security, causing one to ignore the present. Have the outcome in mind, but be open and ready to adapt to what is thrown at you during the race.
Tinfoil Hats: Believe it or not, there are still people who believe that the earth is flat and think that there is a massive conspiracy to cover it up.  Mic.com published a feature article last week that took a deep look at this and other kooky conspiracy theories.  It's as entertaining as it is bizarre.
Chart of the Day
WTF
Hell NO: Burger King is coming out with a hamburger-burrito hybrid called a Whopperito featuring the same disgusting, artificially smoke-flavored beef found in a Whopper.  The race to the bottom by fast food restaurants continues unabated.
A Sucker Born Every Minute: Sketchy bootleg LA celebrity tour buses are lying about where stars live and causing serious and frightening issues for homeowners when stalkers show up at their homes.
Video of the Day: I could watch this video of a Pittsburgh Pirates fan going for a foul ball and ending up with a plate full on nachos on his face all day.
Brilliant Disguise: A man in China tried to smuggle his pet turtle through airline security by disguising it as a hamburger.  He was busted when security agents noticed "odd protrusions" sticking out of a hamburger in his bag.
Landmark Links – A candid look at the economy, real estate, and other things sometimes related.
Visit us at Landmarkcapitaladvisors.com