Lead Story…. Urban Dictionary (my go to source for all things slang) defines a tiger mom as:
"A mother who is overly strict with her child in order to foster an academically competitive spirit. This form of upbringing is intended to direct a child towards financially successful careers at the potential risk of feeling emotionally unfulfilled and/or socially inept."
Just my opinion, but it sounds like a rather terrible way to grow up. I've always assumed that children who were raised in such an environment would be the ones most likely to end up driving the porcelain bus in a dorm bathroom once they go to college and finally obtained their first taste of freedom from overbearing parents. However, there is a relatively new trend where tiger moms, typically from China are following their children to college to ensure that their offspring's hard work doesn't get flushed down the drain in a torrent of booze and late night parties. From The Economist (h/t Jeff Condon):
EVERYONE knows that Chinese students are flooding American campuses. Less widely known is that their mothers are coming, too. Last year 394,669 pupils from China were studying at American universities, secondary and primary schools, the largest contingent of all international students. Increasingly their parents are moving in with them, buying local properties or investing at least $500,000 in businesses to try to qualify for a green card.

The tiger mums usually come to America alone, leaving their husbands behind. "When I wasn't here, my son would survive on instant noodles and energy drinks for several days without eating fruit or vegetables," says Wenxue Hu, mother of a masters student studying applied mathematics at the University of Pennsylvania. She gave up her job as a corporate finance director in Shenzhen to cook for him in Philadelphia. Through a local church she met other Chinese tiger mums, most of whom entered with a tourist visa that allows them to stay up to six months each time. New Haven, Connecticut now boasts a "Yale Chinese grandparents' village", with 15 residents. The old folk live under the same roof as their children, mostly PhD and post-doctoral students at Yale who are too busy to take care of their own offspring.
On one hand, I suppose this keeps kids more focused on school helps to make good on the massive investment the college represents. On the other, college is supposed to be the time when young people strike out on their own, make mistakes and learn from them – rather than continuing to live under the thumb of their mothers. As you can probably imagine, this is having a massive impact on housing markets in markets around top universities. Again, from The Economist (highlights mine):
Last year China became the largest source of foreign property investment in America, pouring in $28.6 billion. Roughly 70% of inquiries from the Chinese indicated that education was the chief motive, says Matthew Moore, president of the American division of http://www.juwai.com, a Chinese international-property website. In Chicago estate agents anticipate more Chinese parents buying expensive condominiums. In Irvine, California, about 70-80% of buyers of new-builds are Chinese parents whose children attend, or plan to attend, nearby colleges, says Peggy Fong Chen, the CEO of ReMax Omega Irvine. Other college towns such as Los Angeles, Seattle, Boston and Dallas, see a similar trend.
The Irvine statistic surprised me a bit. Irvine has long been a hot spot for Chinese buyers and much of that demand has been driven by it's phenomenal schools. However, I'd always assumed that the demand was driven more by it's public schools than surrounding colleges such as UC Irvine. Then again, UCI's student body is 46.2% Asian and 11.7% international with a student body of around 24,500 undergrads and 5,500 graduates so it's not hard to see how this could drive demand for housing if there are 3,500 foreign students at UCI and even a small percentage have parents who move with them and buy a home. According to The Economist, buying a house can make good financial sense, as well as cultural sense for a Chinese investor/parent:
For the rising middle class in China, parking their wealth overseas also makes good business sense. The near-bubble in housing prices at home and the depreciation of the yuan have made them nervous, so diversification becomes pressing. As property prices shoot up in some college towns, more Chinese buyers are drawn in, says Susan Wachter, a real-estate professor at the Wharton School of the University of Pennsylvania. Ownership, rather than renting, becomes more attractive, because their children can rent extra bedrooms to classmates to cover utility and tax bills, while also being able to benefit from future price rises. Some tiger mums also try to help their children get married by making the down-payment or even meeting the full cost. In Chinese culture, owning a property gives a sense of security and helps to attract a spouse.
Coming out of the Great Recession, there has been no better housing bet than going where the Chinese investors want to be. If their buying demand is really being dictated by higher education, I would imagine that this is a trend that could continue for quite a while, especially given the ever-rising cost of college at top schools and the growing number of newly-wealthy people in China that can afford it.
Economy
Say What? Every now and then, Jose Canseco emerges from his steroid-induced coma, pulls a needle out of his butt and goes on Twitter to impart his wisdom of all things finance – which I try to cover here whenever possible. This week our roid-addled friend opined on the Brexit vote and the it was everything that you would expect financial advice from Jose Canseco to be. Update: UK citizens declined Jose's advice and voted to leave the EU. Market chaos this morning and Jose declined offers to go on air with both Bloomberg and Yahoo finance because they wouldn't pay him (I'm not making this up. You NEED to follow him on Twitter).
The Whole Story: We often hear about how the top 1% of Americans is doing dramatically better than everyone else. While that is true it misses a larger point: the upper middle class (defined as any household earning $100,000 to $350,000 for a family of three) is growing rapidly as well. According to a new study from the Urban Institute:
"The size of the upper middle class grew from 12.9 percent of the population in 1979 to 29.4 percent in 2014. In terms of shares of total income, the middle class controlled a bit more than 46 percent of all incomes in 1979, while the upper middle class and rich controlled 30 percent. By 2014, the rich and upper middle class controlled 63 percent of all incomes, while the middle class share had shrunk to 26 percent."
This goes a long way towards explaining why the luxury segment of the housing market has done so much better than lower segments in recent years. If you don't have time to read the full report, the Wall Street Journal put together an excellent summary.
70 is the New 65: According to PIMCO, demographics support rates staying lower for longer. See Also: The yield curve is nearing its cycle low.
Commercial
Sea Change: Someday we are going to talk about department stores the way that our parents talk about switch board operators. They are being eaten alive by internet retailers. Great news for class-A distribution warehouse space. Not so great news for retail. I could go on but this chart from Bloomberg tells the story better than I can: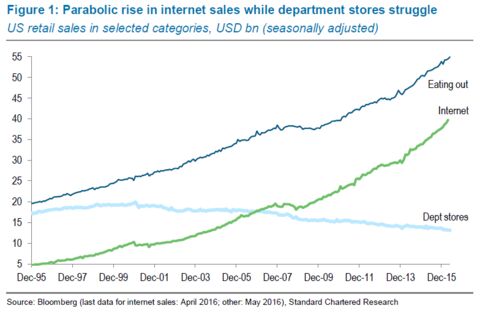 Residential
Non-Starter: When is a starter home not a starter home? When no one can afford it. Yes, inventory is extremely low nationwide but in some markets buyers are dropping at a quicker pace than inventory is, leading to softening prices. From Trulia:
One might think that falling starter home inventory over the past year would cause starter home prices to rise, and for the most part, that's what has happened in most markets. In places like Portland, Dallas, and Colorado Springs, Colo., large decreases in starter home inventory has led to double-digit increases in starter home prices. However, price movements aren't just determined by changes in supply (inventory) – they're also affected by the number of home buyers actively bidding on homes. In fact, in 20 of the 74 markets where starter inventory has dropped, demand has fallen at faster pace and so prices have fallen.

For example, starter home inventory has fallen by about 20% of the past year in both Columbia, S.C., and Charleston, S.C., but starter home prices have actually fallen in these markets by 0.8% and 5%, respectively. And these two cities aren't outliers – 18 others large metros that have experienced a drop in inventory have also seen price drops, including New York, Kansas City, and Montgomery County-Bucks County-Chester County, Pa.
Don't get too excited though if you're a prospective homebuyer. Trulia found that affordability is still getting worse in many of the hottest markets:
Starter homes continue to experience the largest drops in inventory over the past year, followed closely by trade-up homes. While starter home buyers in California have seen some of the largest decreases in affordability, those in central Florida are non-California metros in the West are starting to feel their pain. But a fall in inventory for trade-up and premium homes is occurring at a time when demand for those homes is rising, so those buyers are feeling a tighter pinch than starter home buyers in markets where demand has fallen enough to keep prices from rising.
Profiles
Unintended Consequences: Rule 34 states that: "If it exists, there is porn of it – no exceptions." As skeevy and disturbing as that sounds, it's been scientifically proven to be pretty much true. There is a corollary to Rule 34 that if you provide free wifi, it will be used to watch porn. This should be obvious by 2016 unless you are incredibly naive, which the City of NY apparently is. The city announced an initiative earlier this year to convert former payphones in Times Square to wifi-enabled screens to provide free internet to citizens. But well-meaning project went horribly wrong when homeless men figured out that they could use the ill-conceived devices to stream porn in public. For those of you unaware of the history of Times Square, it used to be a haven for peep shows and seedy adult video stores until it was cleaned up back in the 90s, thanks mainly to then-mayor Rudy Giuliani. From the NY Post (for whom this story was tailor-made):
"I used to come here in the '70s, and I remember thinking Times Square was as skeezy as you could get, but I was wrong," said former New Yorker Richard Herzberg, 61, who now lives in Dallas, Texas.

"This is as skeezy as Times Square could get. I mean, in the old days there was plenty of porn, but you could only see it behind closed doors. So at least there was that level of modesty."
To their credit the city responded by installing filters (which will likely be compromised any day now). As you can imagine the homeless guys weren't too happy about losing access to their free porn:
"I was watching porn on one of them things on, like, Saturday," said a homeless man who identified himself as Hakeem, 44.

"Then on, like, Monday or Tuesday, all of a sudden I couldn't," he added.

"Once word got around, it stopped. It sucks, man. It was great."
Looks like the NYC homeless population will have to find their porn elsewhere for the time being.
Mad Money, Questionable Ethics: Multiple studies have shown that Jim Cramer's stock picks basically suck and don't come close to beating the S&P – while taking substantially more risk, yet he continues to use his CNBC show as an infomercial to promote his $59.95/month stock picking service.
Of Buggy Whips and Floppy Disks: Apple is indicating that headphone jacks are on the way out.
Chart of the Day
WTF
I Wonder What He Had For Lunch: A Swedish soccer player was ejected from a game recently for ripping a fart. I know that soccer players are notorious for being drama queens but this feud between the ref and player over whether it was intentional or not is next level (h/t Tom Farrell):
The referee explained himself. "I perceived it as deliberate provocation," Kako said, adding that he'd once given a player a yellow for peeing by the field as well. "He did it on purpose and it was inappropriate. Therefore, he received a yellow card."

Ljungkvist then re-litigated the matter to Aftonbladet, which definitely is a newspaper. "To provoke anyone with a fart is not particularly smart or normal," he said. "It's nonsense – I just broke wind and got a red card. I spoke to the referee afterwards, I was annoyed, but there were no bad words. I just said he was a buffoon."
Follow Friday: Every now and then I stumble across a must-follow Instagram or Twitter account. City Subway Creatures (@subwaycreatures), an account that posts pictures of the odd folks who ride the NYC subway system is one such account. Follow them today. You won't regret it unless you don't have a sense of humor or are easily offended – then don't both.
Indecent Exposure: Meet the inmate who stripped naked and ran into a court room in the middle of a trial to yell: "Court is back in session"! He is now facing additional charges.
Special Delivery: Meet the Wyoming man who was arrested for going door-to-door selling cocaine and meth. When asked for comment, he replied "it wasn't going to sell itself."
Landmark Links – A candid look at the economy, real estate, and other things sometimes related.
Visit us at Landmarkcapitaladvisors.com