Lead Story…  In the all-time classic 1980 comedy Caddyshack, obnoxious condo developer Al Czervik, played by Rodney Dangerfield opines that:
"…golf courses and cemeteries are the biggest wastes of prime real estate."
He was onto something.  It's been well documented in the years since the Great Recession that golf courses are, by and large a terrible investment that almost never make money – often losing a lot instead.  In fact over 800 courses have closed over the past decade as a result of no longer being financially viable.  So, imagine my surprise when I saw a feature article in Bloomberg earlier this week about how shuttered golf course clubhouses have developed the strange behavior of spontaneously catching on fire:
The dark clouds rolled in over Phoenix's Ahwatukee Lakes Golf Course in 2013, when its owner declared that the costs of keeping it open had outstripped what he was collecting in green fees.

Wilson Gee, a California businessman, shuttered the golf course, erected barbed-wire fences, and began looking for a buyer, telling reporters the land would never be a working golf course again. Homeowners, complaining he was turning the course into an eyesore in order to win approval to redevelop it into single-family homes, sued to reopen it. Gee shanked his first attempt to sell it in 2014, when one homebuilder walked away from a deal, but last year found a buyer in a Denver-based developer.

Then one night in February, the dark clouds turned to smoke, and a fire caved in the clubhouse roof.

It's a local story, defined by conditions peculiar to Ahwatukee, a community of about 80,000 separated from downtown Phoenix by a collection of 2,500-foot peaks known as South Mountain. But the dynamics that bred the deadlock between the struggling golf course's owner and its aggrieved neighbors are mirrored in communities across the country.

More than 800 golf courses have closed nationwide in the last decade, as operators grapple with declining interest in the sport and a glut of competition. Many of those shuttered courses were built on land proscribed from redevelopment by local zoning codes seeking to preserve open space—or, as with Ahwatukee, by deed restrictions intended to protect homeowners who had paid a premium to live near a golf course.

That leaves some golf course owners with the real estate equivalent of an unplayable lie: They can't make money running the course, and they can't recoup their investment by selling it.

"If you open a restaurant in a strip mall and you fail, you close shop and move on," said Jay Karen, chief executive officer of the National Golf Course Owners Association. But for golf course owners, it's much harder to pull the plug on a failing business; as courses fall into disuse, they become suburban zombies—not quite dead, yet far from alive.

"Nobody's tracking what's happening to the land," Karen said.
Therein lies the problem: developers went on a golf course building spree back in the 1990s and early 2000s.  Back then, Tiger Woods was bursting onto the scene and golf was seen as a potentially lucrative investment as millions of Baby Boomers approached retirement which would undoubtedly be filled with more time spent on the links than ever.  When master planned communities were built, developers sold course-fronting homes for large premiums.  Fast forward to 2016 and the golf industry is dying a slow death.  Millennials, by and large have neither the time nor the money to play the game, causing a dramatic decline in club revenues and Nike has dropped out of the golf business as a whole as has Dicks Sporting Goods. In fact, participation is down a whopping 20% since 2003.  More from Bloomberg:
In April, fire ripped through the clubhouse at a shuttered western Kentucky golf course that had been the center of a lawsuit, burning through the afternoon until the roof collapsed over smoldering beams. On New Year's Day, a former volunteer firefighter lit a small fire outside the vacant clubhouse of a closed 9-hole course outside Orlando, then returned three days later to spark a larger blaze, with the help of a can of paint thinner he had found there. And in September 2015, a fire reduced the 10,000-square-foot clubhouse at an abandoned golf course in Bakersfield, Calif., to only a few charred beams.

For John Rhoads, a homeowner in Sparks, Nev., a clubhouse fire at his local course, D'Andrea Golf Club, was both insult and injury. In 2012, its owner had asked members of the local homeowner association to pay an additional $28 a month for course upkeep, Rhoads said. The homeowners demurred, the course was shuttered, and the clubhouse became a magnet for vandals, who posted graffiti on its stucco walls and eventually burned it down. Now Rhoads worries that the owner is making an end run around the homeowner association to convert half of the course into new homes and a winery.

"This used to be one of the nicest golf courses in Reno-Sparks," he said. Now? "Our property values are already down $25,000 a home."
So what do you do with a shuttered golf course that has become blighted and attracts vandals and crime?  Developers would love to buy up courses and develop housing on them while dedicating a portion of the site for community agricultural use or park space as the sites are often prime develop-able parcels.  There's just one problem: homeowners, especially those fronting the course want none of it being that they paid premiums for golf course frontage homes.  The last thing they want is a new neighbor in place of an old fairway.  This leads to an impasse between homeowners and course owners and almost no one is blinking.  Again from Bloomberg (emphasis is mine):
In the face of declining interest and competition driven by oversupply, course owners have gone searching for ways out. Some have donated golf course land to nature trusts and local parks, taking a tax break in return for preserving the open space. Others have inked deals with homebuilders—though those deals are often contingent on winning approval from homeowner associations or local governments.

"I'm hard-pressed to think of many cases where there isn't a higher or better use than a golf course for the site," said Jeff Woolson, managing director of the golf and resort group at CBRE Group. "The only clear exception would be Augusta, Ga."—the hallowed, Bobby Jones-designed course that hosts the Masters tournament each year.
Whatever happens to the shuttered courses, two things are for certain:
We aren't going to see many golf courses get developed any time soon
The biggest winners will be lawyers who handle the inevitable litigation between desperate course owners and irate homeowners
By the way, does that last quote from Jeff Woolson from CBRE sound a bit familiar?  While I can't speak to cemeteries, it turns out that Rodney/Al was a visionary after all.
Economy
Rise of the Machines: How China's factories are increasingly reliant on robots as their workforce shrinks.
Bursting Bubbles: Sorry, John Oliver but subprime auto loans, while likely predatory in some cases, are not the second coming of the U.S. mortgage crisis.
Commercial
They're Baaaack: After a brief respite earlier this year, Apartment REITs are buying properties again which is a sign of health for the sector.
Residential
Blame Game: The City of Vancouver is blaming foreign buyers for the crazy run-up in it's housing market and has even gone so far as to enact a 15% tax on foreign purchases in a effort to keep foreign buyers away.  However, a new report by Paul Ashworth of UK based research firm Capital Economics says that foreigners aren't the primary issue and rather blames irresponsible lending.
Imagine That: Only 13% of households in San Francisco can afford to buy a median priced home.  Ironically, that's actually substantially better than 9 years ago when only 8% could afford to purchase a house.
Profiles
People of Walmart: Walmart has a major crime problem and it's driving police crazy.  This story has it all: shootings, stabbings, kidnappings and hostage situations.  However, my favorite episode is the one where police found a meth lab in a large drain pipe under a Walmart parking lot in upstate NY.
Hero: Meet the 102 year old woman who credits her longevity to drinking.
Pants on Fire: Ryan Lochte may be a great athlete but he is also a massive, massive douchebag.
Chart of the Day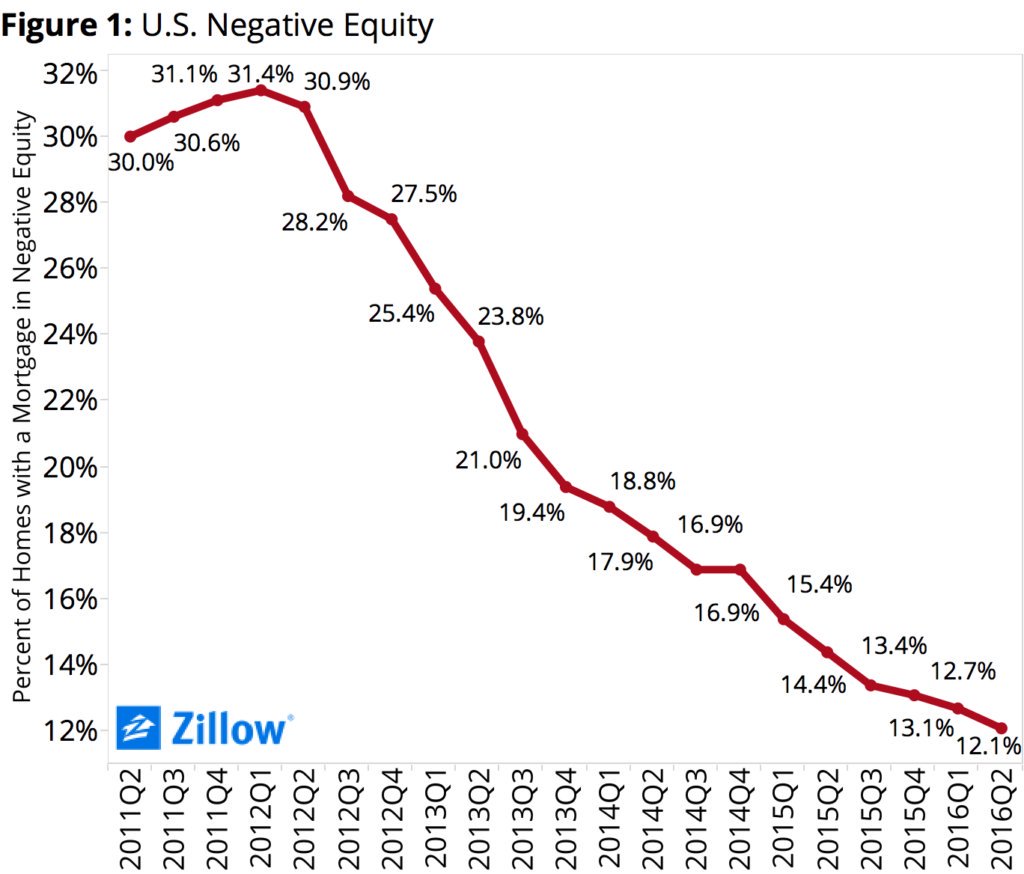 WTF
Monkey Business: Video of the day twofer:
Watch a monkey wearing a diaper get in a fight with a Walmart employee in a parking lot.
Watch a baboon in a zoo goes berserk when a little girl taunts it and flings it's poop at her face.
How to Avoid the Gulag: Shockingly, North Korea is the most efficient country at winning medals at the Rio Olympics.  Let that sink in.
Must Be the Pleats: Meet the Olympic pole vaulter who missed out on a medal because of his…..um pole.  He now claims it was a wardrobe malfunction.  Let me just go on the record to say that I would have handled this ENTIRELY differently had I been in his position.
Ohio = Florida of the Rust Belt: A man from Ohio was arrested for having sex with a red van on Tuesday on the side of a public road.  Sentences like this are what make The Smoking Gun the finest news site in the world: "The victim was parked at the time, cops say."
Landmark Links – A candid look at the economy, real estate, and other things sometimes related.
Visit us at Landmarkcapitaladvisors.com