Lead Story… As I wrote a couple of weeks ago, the Obama Administration took the unprecedented action of calling on cities and counties to re-think their zoning laws.   This was a concerted effort to increase affordability and fight back against NIMBY's who have successfully stopped development in some of America's most productive cities.  The proposal is bold in that governors don't often involve themselves in land use issues, let alone a sitting president.  However, the toolkit presented by the Administration is somewhat toothless because cities are ultimately still ultimately free to do as they please and they ultimately have control over local land use policy.
An additional way to achieve more density is actually quite straight forward: cash.  If the Federal Government really wants denser, more walkable mixed use development then they need to incentivize it by amending FHA rules that currently make it very difficult to build product that fits that description.  From The Washington Post (emphasis mine):
Main Street-style development — the "storefront on the first floor, apartments rented out above" style that forms the core of any older town's historic center — is a residential building form that uses first-floor commercial space to serve community members and enliven a neighborhood. This low-rise density helps prop up the balance sheets of towns responsible for running utilities all the way out to suburban developments, as former city planner and engineer Charles Marohn has repeatedly demonstrated. It also keeps a constant set of the "eyes on the street" that Jane Jacobs identified as necessary for safe streets; renters keep an ear out for burglars after business hours and shopkeepers keep the same at bay during the day. It is, in other words, the core of any successful town-building.

Yet for 80 years, Main Street development has been effectively driven from the market by the growth of federal housing policy hostile to mixed use. Ever since Herbert Hoover's Commerce Department helped promote the spread of model zoning codes that physically separated people and their community institutions, the federal government has poured its energy and resources into encouraging the growth of widely dispersed single-family homes and large, centralized tower blocks. To this day, FHA standards for loans, which set the market for the entire private banking sector, prohibit any but the most minimal commercial property from being included in residential development. As a groundbreaking report by New York City's Regional Plan Association found, these standards are "effectively disallowing most buildings with six stories or less." And depending on the program, a building could have to reach to 17 stories before it is eligible for participation in the normal housing markets. Without the FHA's blessing, projects are granted the "nonconforming" kiss of death unless their developers can persuade a local bank to write an entirely customized loan for them, one whose risk the bank would have to keep entirely on its own books.

These caps on commercial space and income should be raised to level the playing field for housing development and let small developers invest as much in their home towns as huge corporations will in big cities. Caps currently limited to 15 and 25 percent should be raised to more than 35 percent to legalize even just three- and four-story buildings. As small towns and secondary cities across the country seek to revitalize their downtowns to become more competitive job markets, unreformed financing restrictions act as an invisible barrier, suffocating local efforts to invest in smaller communities. And while the housing affordability crisis has reached the most acute levels in a handful of coastal cities like New York, San Francisco and Washington, the White House admits that "this problem is now being felt in smaller cities and non-coastal locations."
The current financing restrictions make it so that the tail frequently wags the dog in mixed use residential construction.  Cities often want ground floor retail to be included to add to their tax base and  increase walkability but it's incredibly difficult to finance.  Instead what happens, is the developer gets stuck trying to thread the needle between building just enough retail to appease the city but keeping it at a low enough percentage of the total project square footage to avoid the dreaded non-conforming label.  The end result is that functional retail space is sacrificed in order to comply with FHA rules.  So, rather than having a well-designed retail concept, you end up with small, non-functional retail components in all but the largest projects.  The space has little actual economic value except as a means to obtain financing.  By way of example, a project one block from our office was recently denied by Newport Beach's city council due to a lack of ground floor retail.  No doubt that the developer was designing to the financing constraints but didn't include enough retail to get the City on board.  The federal government took a step in the right direction earlier in the year by making it easier to finance condos.  This is the next logical step if they are serious about increasing density and making housing more affordable.  Time to put your money where your mouth is.
Economy
Meh: The September Jobs Report was sort of a dud.
Here to Stay?  I love this explanation from Bloomberg's Noah Smith on why low interest rates don't necessarily cause excessive risk taking:
What is it that allows rates to hover around zero indefinitely without causing investors to do bad things with cheap money? It depends on why rates are low in the first place. If money is cheap because central banks are using their powers to keep rates lower than what the market would bear on its own, it stands to reason that investors will take cheap money and invest it in riskier things than they otherwise would. But if rates are low because of natural forces in the economy, and central banks actually have little to do with it, then there's no reason business people would be taking extra risk.
Crude Math: An agreed OPEC production cut has oil back above $50/barrel but large, recently discovered reserves are likely to create yet another glut in the not-too-distant future.
Commercial
Over the Hump?  Apartment rents fell for the first time in a very long time in the 3rd quarter.
Dumpster Fire: Bottom tier retailers Kmart and Sears are technically still in business but both stores are utter disasters.  Rating agencies just put Sears Holdings, the company that owns both on death watch and the only way that it's keeping the lights on is by selling the best assets that it owns.  Part of the problem is that Sears Holdings still own or lease approximately 2,500 properties so this mess will be very difficult and time consuming to wind down.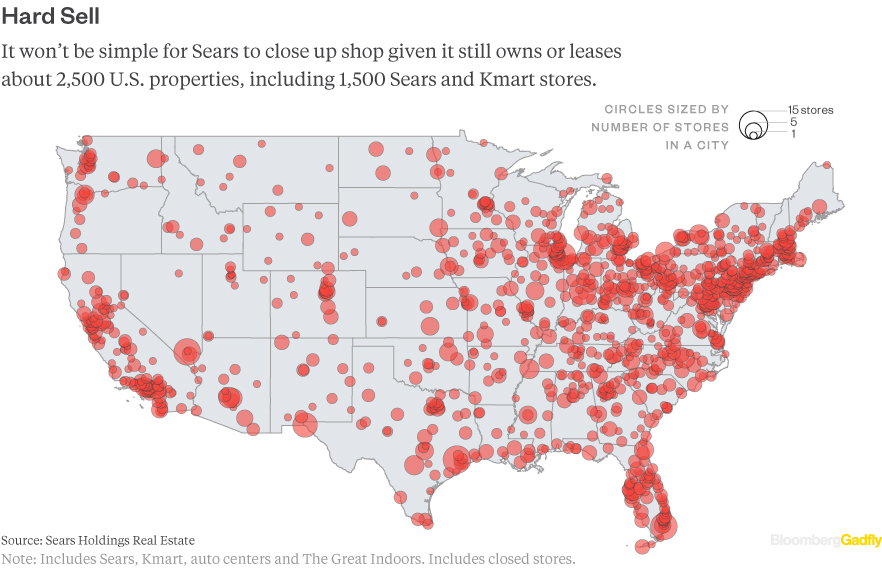 Residential
Beneficiaries: Vancouver's home sales are down 33% after they introduced a foreign buyer tax.  Seattle is likely to benefit.  See Also: New York is overtaking London as the #1 destination for international property investment thanks to Brexit.
White Knight?  Tech firms, often considered villains when it comes to housing issues in the Bay Area are now throwing their weight behind pro-development groups to push for more housing construction.  See Also: The housing shortage is going to start negatively impacting economic growth in California more seriously if something isn't done.
NIMBY Awards: The Bay Area Metropolitan Observer put together a list of their top 10 Bay Area NIMBY moments of 2016.  It would be funnier if it wasn't so sad.
Profiles
Payday: Everyone's favorite sexting app, also known as Snapchat is working on an IPO rumored to value the tech firm at $25 billion.
GTL is Cancelled: Tougher regulations and taxes are hitting tanning salons hard and there are 30% less of them than there were in 2008.
Chart of the Day
NIMBYs gone wild: LA Edition
Source: Greg Morrow of UCLA
WTF
Best Excuse Ever: A Canadian pole vaulter who tested positive for cocaine just days before the Rio Olympics and nearly didn't get to attend claimed that it happened because he made out with a girl that he met on Craigslist.
Wings (and Heads), Beer, Sports: Green Bay Packers tight end Jared Cook ordered some food at Buffalo Wild Wings and received a deep fried chicken head on his plate.
People of Walmart: Walmart was selling a shirt on it's website that said: "I'd Rather Be Snorting Cocaine off a Hooker's Ass."  Sadly, it was taken down once management realized what was going on.
Bad Idea: Entering a Florida Walmart is a bad idea in the best of times.  Doing it before a major hurricane when people are stocking up is just asking for trouble as you'll see in the video of the day.
Landmark Links – A candid look at the economy, real estate, and other things sometimes related.
Visit us at Landmarkcapitaladvisors.com