Lead Story…. I've spent quite a bit of space on this blog talking about segments of the real estate market that have been struggling of late.  From high end apartments and luxury condos in NY, SF and Miami to dying shopping malls in middle America, to struggling suburban office buildings, there's been plenty to go around.  Today, I'm going to focus on a struggling segment that we haven't paid much attention to: super high-end retail.  It seems that landlords at the extreme high end of the retail spectrum have been pushing rents like crazy lately, and now they are paying the price as even cream-of-the-crop retail tenants can't afford it anymore.  Bloomberg ran a story that focused primarily on NY's iconic 5th Avenue, home of the world's most expensive retail rents.  From Bloomberg's Sarah Mulholland:
Landlords on Manhattan's Fifth Avenue are sitting on a record amount of open space as retailers balk at committing to expensive new leases in one of the world's most prestigious shopping districts.

The availability rate on the famed strip, home to Saks Fifth Avenue and Tiffany & Co.'s flagship store, jumped to 15.9 percent in the third quarter, up from about 10 percent a year earlier, according to Cushman & Wakefield Inc. The rate has climbed steadily this year, surpassing the prior peak of 11.3 percent, set in the fourth quarter of 2014.

The rise of empty storefronts isn't limited to Fifth Avenue. It's part of a Manhattan-wide space glut as retailers — buffeted by e-commerce, tepid demand for luxury goods and a strong dollar that's eroded tourist spending — push back against rents that have soared to records. Leasing costs have increased in tandem with property values in the past five years, outpacing gains in merchandise sales and making it impossible for retailers to run profitable stores at many locations, according to Richard Hodos, a vice chairman at brokerage CBRE Group Inc.
If you've read up to this point, the solution seems simple: lower rents and occupancy will rise again.  Only it's not so simple in a world where properties trade hands relatively frequently and every buyer needs to assume that they can push rents further than the last owner in order to make the numbers work at an ever-higher basis.  This is not an issue that is in any way unique to 5th Avenue, or retail space for that matter.  It happens in commercial real estate transactions everywhere in an upward-trending market.  However,retail in particular, especially the shopping mall space is proving to be a very difficult business as eCommerce continues to gain share and department store anchors continue to go dark putting many landlords underwater. The aspect of this story that is incredibly staggering is the astronomical rental numbers. Again, from Bloomberg's Sarah Mulholland (emphasis mine):
On the stretch of Fifth Avenue from 49th to 60th streets, which commands the world's highest rents, landlords are asking an average of $3,213 a square foot, up from $2,075 a square foot in 2011, Cushman data show. In the tourist-heavy Times Square area, rents stand at $2,104 a square foot after tripling over a four-year period.
The brokerage's retail availability rate takes into account vacancies as well as stores occupied by merchants that plan to leave when their leases expire. Retailers that signed leases at high prices in the past several years and are seeking a tenant to sublease their space are also included, according to Steve Soutendijk, an executive director at Cushman.
"Tenants that signed at the absolute top of the market are looking to mitigate their exposure," he said.
At this point, you are probably assuming that the rents referenced above are a typo.  I can assure you that they are very real.  And just how did they rise so quickly? Also, how much are they overvalued? Mulholland continues (emphasis mine):
"Property trades are being based on achieving ever-higher rents, and nobody ever really looks at what retailers can afford to pay," Hodos said. "In some cases, rents need to come down 30 percent or more for rents to be at levels where retailers are able to make sense of them again."
It gets even worse if the project is levered since signing a lease below a certain amount could lead to negative cash flow or put the loan in default if debt service coverage is inadequate.  This is a great illustration of one of the worst aspects of real estate investment: garbage in, garbage out underwriting.  You can make an investment model hit a targeted valuation if you put enough inflation into a model.  However, in the real world tenants actually have to be willing to pay and those assumptions don't work nearly as well as they did in the model. The result is that you end up with vacancy when no tenants are willing to pay above-market rent.  If the assumptions in the proforma are garbage, then the proforma will be garbage as well.  It doesn't matter how good your analysis tools are if you don't use them correctly.
There's an old saying about 5th Avenue being a safe haven real estate investment where you can't lose money.  However, that simply isn't true if you overpay by making such aggressive leasing assumptions that you can't fill vacant spaces.  Trust me, you can lose plenty of money that way, especially when your entire business plan is predicated upon getting a tenant to pay you thousands of dollars a square foot.
Economy
Long in the Tooth? Yes, the current expansion cycle has been quite long but don't assume that the next president will face a recession.
Shifting Playing Field: Workers with specialized skills, deep expertise or in-demand experience will be the big winners in the gig economy.  Everyone else?  Not so much.  See Also: While services sector booms, productivity gains remain elusive.
Residential
Choppy: US pending home sales rebounded in September after a disappointing August but inventory stayed tight.
Profiles
It Was the Best of Times. It Was the Worst of Times: Twitter as an app is absolutely indispensable.  Twitter as a business is absolute sh&t. See Also: How Instagram and Snapchat led to Twitter killing Vine.
Bet on It: Why Microsoft and Google could become the bookmakers of the future.
Seems Reasonable: A divorcing couple went to court to argue over who gets the Cubs tickets. See Also: How a pirated television station turned the Central American nation of Belize into Cubs fans.
Chart of the Day
I live in an area with extremely high rents but this is unreal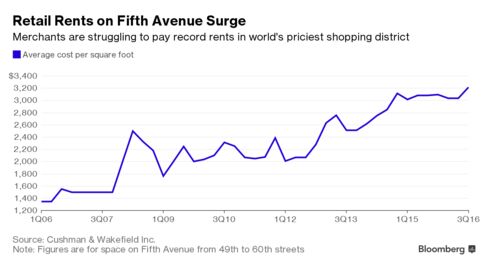 WTF
Busted: Roses are red, someone got laid, parrot outs husband for cheating with maid.
Desperate: Lonely men are increasingly turning to digital assistants like Siri for love and 'sexually explicit' chat.
But First, Let Me Take a Selfie: Drunk driving Texas A&M student takes naked selfie, runs into police car.
Landmark Links – A candid look at the economy, real estate, and other things sometimes related.
Visit us at Landmarkcapitaladvisors.com